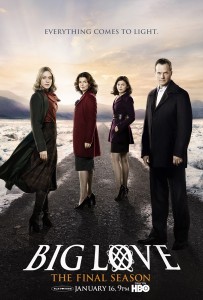 Update: Make sure to participate in my Big Love Contest and Giveaway for the chance to win DVD sets from the show.
We already told you this was Big Love´s final season. And the show is planning on leaving with a bang. When the Emmy and Golden Globe nominated series Big Love premieres it fifth and final season,  Sunday, January 16 at 9pm on HBO as we learn about the fates of Bill and his three wives – Barb, Nicki and Margene.
Executive Producer Gary Goetzman is confident on the verge of promising by saying "We believe this final season of Big Love will be the best ever."
And I mean, it´s not at all easy match with the previous seasons. (Season three being my personal favourite).
Big Love season 5 trailer video leaves me psyched about the show, and wanting January 16th to come as fast as possible.
And as you can see in it, it surely feels like a farewell ride´s ahead of us.
Check it out and tell me if I´m wrong.
Another thing is to expect the next from Mark V Olsen and Will Scheffer, Big Love creators that will be working on the next big thing for HBO to be greenlit soon enough. (Thus making it the second "I can´t wait for it moment" of the article).
Watch Big Love Final Season Trailer Video
What is Big Love About? Plot
Big Love tells the story of Salt Lake City businessman Bill Henrickson, who balances the needs of his three wives – Barb, Nicki and Margene – their nine kids and three houses, and his own entrepreneurial ambitions. Bill Paxton, Jeanne Tripplehorn, Chloë Sevigny and Ginnifer Goodwin star in the series, which is executive produced by Playtone's Tom Hanks and Gary Goetzman, David Knoller, Bernadette Caulfield and series creators and show runners Mark V. Olsen & Will Scheffer.
Mark V. Olsen and Will Scheffer have a continuing relationship with HBO, and their next project for the network will be announced when it is confirmed.
Big Love is produced by HBO Entertainment in association with Playtone and Anima Sola Productions; created by Mark V. Olsen & Will Scheffer; executive producers, Tom Hanks, Gary Goetzman, David Knoller, Bernadette Caulfield and Mark V. Olsen & Will Scheffer; supervising producer, Patricia Breen; producer, Seth Greenland; producer, Peter Friedlander; co-producers, Dauri Chase and Don Bensko; co-producers, Melanie Marnich and Roberto Aguirre-Sacasa; executive story editor, Julia Cho; story editor, Jami O'Brien; staff writer, Aaron Allen; casting, Junie Lowry Johnson, C.S.A., Libby Goldstein and Lisa Soltau.
So, will you watch Big Love fifth and final season on HBO premiering January 16th 9 PM? Let me know your thoughts in the comments section.
Also, remember to follow me on Twitter for more Big Love Scoop and Spoilers.
Comments
comments