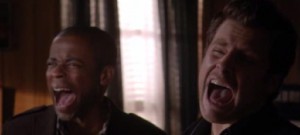 Another night of Psych on TV is what everybody should get in order to have a good time. And if that is the episode that follow the one where Shawn and Juliet kiss, well, there´s not much better than that.
And in this case, on Psych S05E11 In Plain Fright a lot of funny things happened, in a Scooby Doo themed Psych episode.
While on the haunted house ride at Santa Barbara's Scare Fest, Shawn and Gus witness a murder and are soon led to believe the person who committed it is the ghost of a man who fell to his death at Scare Fest 13 years ago.
Best Quotes from Psych S05E11 In Plain Fright
Shawn: Everybody know that animatronic goblins can sometimes come to life in the weirdest of situations
GUS: That is the most ridiculous thing I have ever heard in my life
Shawn: Jules, couples are supposed to have their hands all over each other
Jules: Eventually, Carlton will figure out about us
Shawn: I´ve seen his detective skills. It could take years
Shawn: I will go with both of you. I promise I´ll scream as loud with both of you
Shawn: Gus will understand
Jules: So you told him about us?
Shawn: Are you kidding? It would be like posting it on my Facebook page. If I had a Facebook page. I don´t have a Facebook Page, or the desire to share intimate life details with people I´d avoid in the streets
Shawn: Would you have some respect for yourself?
Shawn: I just saw a guy get killed.
Ken: Where?
Shawn: In the murder house
Ken: You know that´s supposed to happen?
Shawn: It´s time we get the team back together. This is the kind of case that´ll help us hire back our best agent assistant ever. Three ninjas, megamountain, reunited. It feels so good.
Ken: I like that song. But the keys are only to get used for business.
Shawn: Murder is our business
Shawn: Are you in?
Ken: I´m out
Gus: So am I
Shawn: I didn´t ask you
Gus: I can´t believe it. We are at carnival fest
Shawn: I´ve seen it a million times
Gus: Where? On Winnie the Pooh?
Shawn: And other places
Eve: WHen they told me two kids have done this I didn´t expect THIS
Shawn: Why? because he´s black?
Gus: What are you doing?
Shawn: Sh. I´m playing the race card
Carlton Lassiter: Kids should be scared by the law, not adults in costumes
Shawn: We have a bona fide Scooby Doo case that´s fallen into our lap: Dead guy, haunted house, amusement park. Gus, say Zoinks.
Gus: I´m not gonna say zoinks
Shawn: Say Jinkies
Gus: Jinkies
Shawn: Please sir, tell all this doubters and Scooby Don´ts who killed this man
Gus: You may think of starting some antipsychotic medication. I can recommend some generic drugs. Just cause you are delusional you don´t need to overpay.
Gus: Maybe you want to consider an in house program. Have you seen Girl Interrupted?
Shawn: Gus, please. Have you seen Cuckoo´s Nest? or Crazy People?
Gus: Boat Trip
Shawn: Boat Trip!
Shawn: Clyde Lugs and Pembrook!Johnny Riketts did kill Weiland
Gus: Did you use a character from Stroker Ace as an interjection?
Carlton Lassiter: I have something I need from you two: Your absensce
Gus: Wow
Shawn: I know
Gus: How long do you think he´s been waiting to use that one?
Shawn: Weeks, maybe months
Ken: Do you mind guy if I go back to work
Shawn: We´d love you to go back to work
Gus: As long as we are not the ones employing you
Carlton: Scooby Doo… Is that why he´s calling me Velma?
Jules: Probably
Shawn: Jamie Emerson… what is Wonder Woman´s name?
Gus: You´ve been after her for five years
Eve: Five years?
Gus: Oh, he´s not that smooth
What did you think of Psych In Plain Fright? What did you think of Jules and Shawn together? Let me know in the comments section. Also, remember to follow me on Twitter for more scoop and spoilers on Psych.
Comments
comments