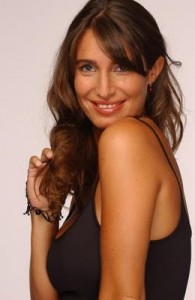 According to Argentinian celeb site Hace Instantes, weel renouned star actress Romina Yan died today. She was daughter to producers Cris Morena and Gustavo Yankelevich.
Romina Yan died Tuesday September 28th, in the afternoon, at Hospital Central de San Isidro, due to suffering cardiac arrest that resisted every attempt from the doctors to revive her.
Romina Yan is remembered for her role on "Chiquititas", Argentinian telenovela that turned her into an international celebrity.
Who was Romina Yan?
Romina Yan, was an Argentine actress, screenwriter, singer and dancer. She debuted in television programme Jugate Conmigo, followed by internatonally successful series Chiquititas, created by her mother Cris Morena. Romina Yan died at age 36 on September 28, 2010, after suffering a myocardial infarction. According to a spokesperson of the Central Hospital of the City of Buenos Aires, in San Isidro district, Romina arrived dead at the hospital. Romina felt sick at home and a friend took her to the hospital, but she was pronounced dead fifty minutes after arrival. She had been married to Darío Giordano since 1998.
You can say your goodbyes to Romina Yan here. She will be missed.
Comments
comments