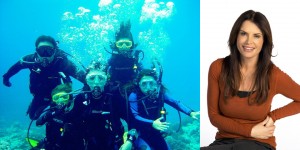 We already told you about Keeping Up With The Randalls on Hallmark, well, now it´s time to check an interview with Roma Downey about the film.
Playing a woman for whom running, swimming, jumping; physicality as a way of life is not the first thing Roma Downey's fans would expect from the former "Touched by an Angel" star.  And that's one of the reasons she says she was attracted to the lighthearted summer comedy Hallmark Channel Original Movie, "Keeping Up With the Randalls," that has its Premiere Saturday, July 16 (9 p.m. ET/PT, 8C) on Hallmark Channel.  "It's a little different dynamic for me. It's fast-paced and has some real energy.  It was fun," she says of the romp featuring multiple generations of an extra hardy clan meeting a potential daughter-in-law (Kayla Ewell) whose idea of fun in the outdoors is dining al fresco.  The following story is available for all press uses, with photos, from Crown Features Syndicate™
Roma Downey plays a sports-loving mom with a family full of competition-crazed athletic types in the Hallmark Channel Original Movie "Keeping Up With The Randalls," that has its premiere Saturday, July 16 (9 p.m. ET/PT, 8C).  But she admits that in real life, she probably has more in common with the not-so-athletic girl her character's son brings home for a family weekend.  "She's brought into this kind of jock-like family, and they're all good at everything, and she's a city girl," says Roma.  "I certainly felt, in that situation, more in touch with her apprehension about being in the great outdoors."
No wonder Roma can identify.  The Derry-born actress, with her ladylike manner and gentle voice that retains a soft Irish lilt, confesses that she herself is "a reluctant athlete.  I have, surprisingly, through my forties, grown into my athleticism.  Probably I would attribute that to my marriage and my choice of husband and his love of the outdoors."
Roma, of course, is married to top television producer Mark Burnett, the man responsible for bringing viewers shows including "Survivor," "The Apprentice" and "The Voice."
"When we were dating, he gave me a very, very large bag," she recalls with a playfully ominous tone, "so I knew it wasn't the earrings I had been hoping for.  And in the large bag was a wetsuit and all of the paraphernalia that would go along with scuba diving.  And I said, very casually and trying to disguise the rising panic that I was experiencing, that I did not know how to scuba dive.  I didn't have a lot of interest in knowing how to scuba dive.  And he said, 'Oh, but that brings us to my second gift, which is scuba diving lessons!'"
"What can I tell you?  I'm a certified scuba diver.  I've been swimming around the bottom of more oceans than I ever dreamed I would."
Sitting in the living room of her home that overlooks the sparkling Pacific for an afternoon's conversation, Roma adds, "We go hiking.  Here in Malibu we have some beautiful trails.  We also are into horseback riding, which is lovely.  I can't profess to be a massively-experienced rider, but I ride.  And I'm probably, I think, in better shape than I've been in 25 years.  That's not bad for a girl who just turned 50."
She's a vibrantly beautiful, age-defying 50.  Apparently all that movement and fresh air agrees with her.
"Thank-you.  I feel great.  I feel like I'm in good shape.  I feel like I'm probably still keeping my weight down.  It's a challenge, but I'm doing it," she says.
"When this movie came in we were laughing because I had recently increased my routine with my trainer and I thought, 'It's interesting how you can draw roles into yourself.'  Ten years ago I would have laughed and said, 'Why did they ask me to be this sporty mom?  I'm clearly not that.'  But you know, even though I don't have the sergeant major personality, I have great discipline.  We had lots of fun doing this."
Kayla Ewell of "The Vampire Diaries" plays the beleaguered girlfriend, budding fashion designer Alicia, in the movie.  Thad Luckinbill ("The Young and the Restless") plays Will, and TV legend Marion Ross stars as family matriarch Grandma Dorrie.
"It's a great young cast—and in that I include Marion Ross, who is one of the youngest older actors I know," Roma says.  "She has the most extraordinary energy, stamina, humor and heart.  She was so loving and gracious, and she was hopping in and out of our van with more energy than the 20-year-olds in the cast.  She was amazing.  She's who I'd like to be when I grow up."
Speaking of growing, and continuing to grow, Roma notes thoughtfully, "I think it's important, maybe particularly as we get older, to keep expanding how we view ourselves so that we move out of limitation and into possibility."
She's talked about how Mark influenced her in that regard.  How has she influenced him?
"He's expanded my physical journey, and I believe his presence in my life has expanded his spiritual journey," she responds. "And then, together, we overlap our emotional journey, through our love."
Roma's abiding interests led her to earn her master's degree in Spiritual Psychology from the University of Santa Monica.  She graduated in 2009.  "It was great.  They all came—my daughter and my stepsons and my in-laws and Della Reese and her husband Franklin," she says.  Reese, her "Touched by an Angel" costar, remains a best friend and mama figure.  "They came to Royce Hall at UCLA for my graduation.  It was very exciting, as I worked hard to get my master's, and I had a great sense of accomplishment."
Beyond enjoying her role, the story and her cast mates, Roma was happy to take on "Keeping Up With The Randalls" because shooting took place close to home—a crucial matter to the actress whose daughter, Reilly, from her earlier marriage is now 14 years old.  Mark's sons are 17 and 13.  "Yes, three teenagers, God help me," she says with a laugh.  "No, they're good kids and thank God everybody's well…But you certainly have the awareness that time is moving so quickly now.  In the blink of an eye, you know the kids are growing up so fast, and with that in mind, I find myself reluctant to consider work opportunities that take me far away for a great period of time."
The journey of life so far has been an amazingly rich one for Roma, whose childhood, in humble surroundings in embattled Northern Ireland of the 1970s, was far different from that of her own offspring.  "I don't even know if I could have imagined back then, growing up in The Troubles, where I'd be now," she observes.  "I had a little room at the back of a house.  It rained, at least in memory—it rained throughout my entire childhood."  Now a U.S. citizen with a long list of credits and awards to her name, Roma looks out at the loveliness of the seaside landscape near her home, and says, "I'm living here in this country with all the blessings that my life has given to me, and I'm just so grateful, really."
Will you watch "Keeping Up With The Randalls" Premieres Saturday, July 16 (9 p.m. ET/PT, 8C)? Let me know
Remember to follow me on Twitter for more Hallmark scoop.
Comments
comments