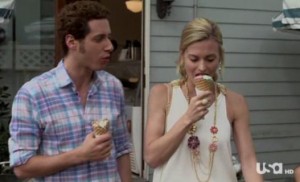 Good TV is back! Well… set your calendars, since Royal Pains comes back every Thursday 9/8 C on USA. Last week a new episode aired, called Fight or Flight in which A woman has trouble relaxing after moving to the Hamptons for a less-stressful life. But Hank soon suspects there's a medical explanation for her woes. Elsewhere, Evan learns why Paige won't spend the night.
The biggest question spoiler from Royal Pains is: Are Hank and Jill getting back together?
Best Quotes from Royal Pains – S02E17 Fight or Flight
Hank: Miss Walsh, your friend is dead
Ms Walsh: I probably don´t look the same without my Blackberry in my face
Ms Walsh: Don´t tell me you are afraid of flying in small planes
Hank: I´m not afraid of flying in small planes. I´m afraid of crashing in small planes. But thank you
Marissa: I´m pregnant. You are going to be a parent
Boris: I see
Paige: There´s something I need to tell you… I snore
Ms Walsh: I´m trying to start a business here. My life depends on it
Divya: Your life depends on your health
Paige: Music, candles, a humidifier. Romantic!
Divya: Go to London… it´ll be fine
Hank: I was thinking oh yeah, maybe this is what they call ER Burned
Evan: Paige, I love you… big time
Paige: I love you too
Evan: Thank God
Evan: I never get to know the good stuff
Evan: Marissa is not moving out
Hank: No, I guess we are
What did you think of Royal Pains Fight or Flight? How about Evan telling Paige "I love you"? Let me know in the comments section.
Also, remember to follow me on Twitter for more scoop and spoilers on Royal Pains.
And come back to this site tomorrow for the spoilers for Season Two Finale of Royal Pains that air next week.
Comments
comments