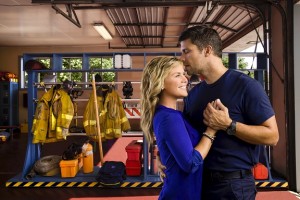 Second Chances, starring Alison Sweeney, Greg Vaughan, Edward Asner, Charlotte Labadie and Benjamin Stockham will have its World Premiere on Hallmark Channel Saturday July 27 at 9/8 C PM.
In the film, Jenny McLean (Sweeney) is a single mom working at a 911-call center struggling to make ends meet and raise her two kids, Elsie (Labadie) and Luke (Stockham). Although still reeling from her divorce, Jenny can't help but flirt when she gets emergency calls from Jeff (Vaughan), a local firefighter she nicknames "Cowboy" for his handsome voice. But when she gets a call that Jeff has been hurt in a fire, she is determined to finally meet him face-to-face. With a broken leg and strict doctor's orders not to walk on it or climb any stairs, Jeff needs a first-floor apartment where he can recover and Jenny is looking to rent out her guest room to earn extra income. Brought together by the unusual circumstances, Jeff soon moves in and becomes part of the family and Jenny is reluctantly falling for him. After learning from Jeff's firefighter friend Buddy (Asner) how Jeff's father died as a fireman in the line of duty and after Jenny receives a 911 call from a police officer in a car chase who ends up dying, Jenny is reminded of how dangerous his job is and has to decide if her family can take a risk to let love in again.
Will you watch Second Chances on Hallmark Channel? Follow me on Twitter for more scoop.
Comments
comments