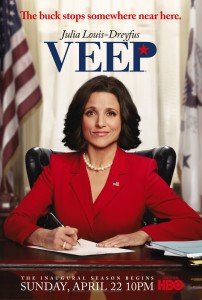 Ok, so this looks like one of the most promising new shows so far. (Girls is also looking good, and in HBO too).
So, let´s take a look at ten reasons to watch Veep on HBO.
1- Julia Louis-Dreyfuss as the Vicepresident of the United States of America is amazingly good, funny, and politically incorrect in the right amount. (Maybe a little more than right, as you can see in these clips below of a hilarious outtakes video from Selina Meyer's Obesity PSA)
2- Tony Hale as the Veep´s right hand: He should be on every Award buzz talk for supporting actor on comedy. Hands down hilarious. Tony Hale makes for the funniest awkward character on TV.
3- Anna Chlumsky as Veep´s chief of staff: We already know she´s as cute as can be, right? Well, she´s also funny, and her casting in the role is spot on. Only thing more meant for her would be as Kristen Johnston´s little sister on The Exes… better yet, bring Kristen as her big sister on this one!
4- Matt Walsh as the spokesperson: You´d think the spokesperson should be someone with confidence to talk. Well, he´s not. Brilliant.
5- Reid Scott as Dan: Apparently, the only one who´s got a clue about what to do… and of course, he is a self centered douche. Like this video  of a deleted scene from episode five proves.
6- The whole cast as an ensemble: You have to see them feed off each other. The chemistry! It makes me happy that New Adventures of Old Christine got cancelled so that this show could exist!
7- POTUS: The President of The United States of America hasn´t been shown yet on the show, so it makes for a great secret casting to surprise us in the future. Who can they come up with to run America?
8- HBO: HBO already renewed Veep. And knowing that the show is safe and will come back, is letting the showrunners develop it properly. It is already paying off. It is one of the most creative shows out there.
9- The Anti West Wing: Remember all those things that made The West Wing a great show? Well, Veep is a great show for all the opposite reasons.
10- One liners and rants: As well written and performed as can be.
I am giving Veep a grade: Must Watch A-. And I can move to A or A+ contingent on who is selected to be POTUS.
What do you think? Are you watching Veep on HBO? Let me know your thoughts in the comments section. Also, remember to follow me on Twitter for more Veep scoop.
Comments
comments