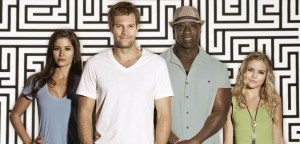 The newest Drama Procedural from Fox called The Finder is premiering Thursday January 12 9/8C, and I had the chance to watch it advanced to tell you a little bit about it. (I will only talk about the first fifteen minutes of the show though, as not to spoil it).
The first impression is that the cast is solid: I mean Geoff Stults and Michael Clarke Duncan? Come on, that´s just showing off.
What is The Finder An Orphan Walks into a Bar about? Plot Synopsis
After recovering John Fogerty's (guest-starring as himself) beloved guitar, Iraq veteran Walter Sherman (Geoff Stults) helps a teenage boy (guest-star Brett Davern) locate his missing father, a military pilot and war hero whose plane vanished after embarking on an undisclosed mission. Walter turns to Deputy U.S. Marshal Isabel Zambada (Mercedes Mashn) for insider information about the missing colonel, which links the lost plane to a high-level drug dealer and illegal cargo. But when Walter forms an unlikely connection with the missing father, he not only locates the fallen aircraft, but he and Leo (Michael Clarke Duncan) uncover the real purpose of the flight and help the teenage boy find closure. Meanwhile at the Ends of the Earth Bar, owner Leo and Walter keep a watchful eye on Willa (Maddie Hasson), a teenager on parole from juvenile detention and employed at the bar as part of her probation
Best Moments and Preview of The Finder
The episode starts with Walter trying to find a rocker´s favourite guitar, and the guy who apparently stole it walking nervously in a hotel.
Isabel: I need my gun, right?
Some very strange object made with shoes and bike wheels make an entrance chasing the guy who stole the guitar. Is that setting the tone for what we´ll see? The Mentalist meets McGyver? Wouldn´t mind at all!
Walter: Shoot him Isabel, shoot him now
Isabel: US Marshall, drop your weapon now
Walter: He killed my robot
I´m liking the music selection. Guitar´s back to his rightful owner, and we get treated to a great vintage song called Fortunate Son played by none other than John Fogerty
Walter: Can I keep that pick?
Leo: Souvenir
John Fogerty: I owe you one boy
Willa: This is Cooper, his car broke down where every car breaks
Cooper: You stole my wallet?
Leo: You probably dropped it and she was kind enough to pick it up for you
Cooper: How much fo you charge?
Walter: Leo handles that
Walter: I do things a little different. That´s why I´m not in the military anymore… one of the reasons… details, not important (So, there starts Walter´s backstory… I want to know more about it)
Walter: I generally find more than what people is looking for.
Walter: I think you are one of the finest men to walk on this earth. Besides Jesus and Cal Ripken Jr.
Leo: Thanks, I know how much you appreciate Cal Ripken Jr.
Walter: You stupid or crook?
Cooper: Been raised by wolves?
Willa: Sort of. My parents were killed and then I went from foster home to foster home
Isabel: Walter has brain damage… Look, I love him… I really do, not literally, ib the way people say about people they care about
Leo: It´s a gift, and I´m proud to be part of it
Leo: Walter found me in time to prevent me of killing a man in cold blood. In return, I will give up my life t help him
And that´s it, first fifteen minutes, and you have all the set up for a great show: The Backstory, the love interest, the friend, some humour, some action. Thumbs Up on The Finder.
What do you think about The Finder? Will you watch it Wednesdays 9/8 C on Fox? Let me know in the comments section. Also, remember to follow me on Twitter for more The FInder scoop.
Comments
comments