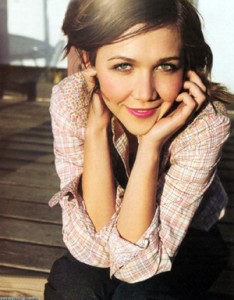 Sundance Channel announced today it has signed a co-production deal with BBC Worldwide, North America on the original mini-series THE HONOURABLE WOMAN starring Academy Award nominee Maggie Gyllenhaal (Crazy Heart, The Dark Knight, Secretary). The announcement comes following Sundance Channel's recent renewal of critically acclaimed original series "Rectify," and as it prepares for its next original drama series "The Descendants" (working title). The eight part mini-series is a suspenseful thriller written and directed by BAFTA® winner Hugo Blick (The Shadow Line) and executive produced by Drama Republic's Greg Brenman ("Low Winter Sun," Billy Elliot) and produced by Abi Bach (Small Island).
THE HONOURABLE WOMAN is a fast paced, labyrinthine thriller set against an international political backdrop. With Blick's distinctive rhythmic style and vision as both a writer and director, he brings together a compelling drama about family inheritance, international business and world politics. Nessa Stein's (MAGGIE GYLLENHAAL) father was a Zionist arms procurer, and as children, she and her brother witness his assassination. As an adult, inheriting her father's company, she dramatically inverts its purpose from supplying arms to laying high-spec data cabling networks between Israel and the West Bank. Now in her thirties, her sudden appointment to the House of Lords, apparently due to her tireless promotion of projects for reconciliation between the Israelis and Palestinians, creates an international political maelstrom.
Maggie Gyllenhaal says: ""I couldn't put the scripts down. Nessa is such an exciting and intricate character. I can't wait to begin filming."
Sundance Channel President, Sarah Barnett, commented: "'The Honourable Woman' is scintillating drama: it is both a tightly plotted international political thriller and a superbly wrought character piece about hope, compromise, guilt and families." She continued, "The talent both behind and in front of the camera is remarkable, and we are so excited to present this brilliant and wildly entertaining mini-series to our viewers."
Executive Producer for Drama Republic Greg Brenman says: "We have been fans of Hugo Blick for many years and are thrilled that this extraordinary project now boasting one of America's leading ladies will be the first production for Drama Republic".
Matt Forde, EVP, Sales & Co-productions said "The BBC and Sundance Channel are doing great things together and we are delighted to strengthen that partnership with 'The Honourable Woman.' No doubt Maggie Gyllenhaal's spectacular talents will bring Hugo Blick's brilliant vision to life. Watch this space!"
Following the murder of a Palestinian business man, Samir Meshal, after he had just been awarded the latest cabling contract, Nessa and her brother Ephra find themselves placed under the scrutiny of both Whitehall and the Secret Intelligence Service. It is then that Nessa is forced to confront not only the true nature of her business empire but of her brother and, ultimately, of herself.
Set against the gripping international backdrop of paranoia and espionage, THE HONOURABLE WOMAN follows one woman's personal journey to right the wrongs conducted in her past. From the corridors of governmental power, to Whitehall and MI6, Washington and the CIA, to Israel and the Palestinian Territories – the visual backdrop of BLICK's gripping drama is as stunning and refined as the story that drives it.
The project is an Eight Rooks and Drama Republic Production for BBC TWO and is co-produced by Sundance Channel. It will be executive produced by: Hugo Blick for Eight Rooks Productions, Greg Brenman for Drama Republic and Polly Hill for the BBC. Abi Bach (Small Island) produces. BBC Worldwide holds international distribution rights. Jemma Adkins, SVP Scripted Productions, BBC Worldwide North America brokered the deal.
THE HONOURABLE WOMAN is set in the UK, the Middle East and America, and will film on location from mid July 2013, and will broadcast on Sundance Channel in the US and BBC Two in the UK in 2014.
Will you watch it? Follow me on Twitter for more scoop.
Comments
comments