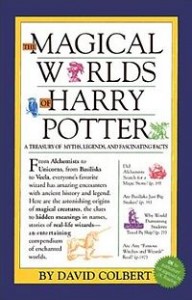 This book, unlike The Unofficial Harry Potter Vocabulary Builder I also reviewed, delves into the myths and legends both based on tradition and older cultures and literature, as well as in JK Rowling own creations and wording. The book tells us the stories of basilisks, hippogriffs, hinkypunks and other magical creatures, as well as the origins and stories of great magicians of all time such as Nicholas Flamel, Merlin, and Dumbledore himself. It also tries to explain us why it was that Rowling picked each name. The book is not an encyclopedia nor it is close to being one, and I guess it is not even the goal of the author to make one, rather than guide us through the first couple of layers from Rowling´s mind when creating the Harry Potter saga and help us enjoy the books even more.
This book is just for those who are fans of Harry Potter, but being so many around the globe, there´s no worries in Colbert´s book as to wether it can find an audience.
The first edition came after only four books on the saga have been written, and the two companion books about Quidditch and Animals, and a revised version came out after Deathly Hallows was published.
All in all, a great read for Potter-verse fans.
Book Info
Paperback: 336 pages
Publisher: Berkley Trade
Language: English
ISBN-10: 0425223183
ISBN-13: 978-0425223185
How to buy The Magical Worlds of Harry Potter by David Colbert?
Have you read this book? Follow me on Twitter for more book reviews.
Comments
comments