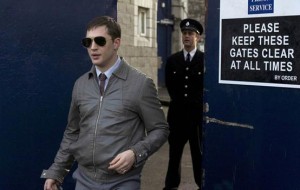 ENCORE Originals is set to debut "The Take," a miniseries starring Tom Hardy (Warrior) based on Martina Cole's best-selling crime thriller. The exciting, uncompromising four-part miniseries will premiere part one on Friday, December 2nd at 9pm et/pt, and will air the subsequent parts Friday nights at 9pm et/pt through December 23rd.  Centered around the trials, tribulations and speculations of an English family, "The Take" stars Tom Hardy (The Dark Knight Rises (2012), Warrior, Inception, RocknRolla, Black Hawk Down) as Freddie Jackson, with Shaun Evans (Boy A) portraying Freddie's cousin Jimmy. Emmy Award® winning actor Brian Cox (The Escapist, Troy, The Bourne Supremacy, Braveheart) also stars as Ozzy, the legendary criminal godfather who manipulates the fates of Freddie and his cousin Jimmy. Freddie's wife Jackie is played by Kierston Wareing (Leaving, It's a Free World) and Charlotte Riley (Easy Virtue) plays her younger sister Maggie.
Watch The Take Preview Trailer Video
 The Take Episode 1 Plot:
1984-1985 Freddie Jackson is out of prison and looking to make a name for himself with the help of his cousin Jimmy and powerful new ally Ozzy – a legendary crime boss controlling the East End crime empire.
The Take Episode 2 plot:
1988-1990 There's a new killing to be made and Freddie and Jimmy are forming alliances with the help of Ozzy. When Freddie's behavior takes a shocking turn for the worse and almost ruins a deal, Jimmy takes control.
The Take Episode 3 Plot:
1994-1995 Nobody is safe when Ozzy is attacked in prison. Freddie and Jimmy reach a breaking point and decide to settle the score once and for all. No one is prepared for the horrific events that are about to unfold.
The Take Episode 4 Plot:
1995 From a young naive boy, Jimmy has become a hardened and powerful man and knows what he needs to do to become the boss. Meanwhile, Jackie and Maggie share a secret they plan to keep from everyone.
Will you watch The Take on Encore? Let me know in the comments section.
Also, remember to follow me on Twitter for more The Take scoop.
Comments
comments