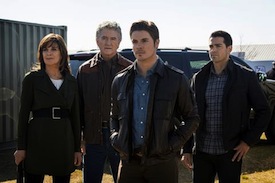 This one was definitely expected, sa the show was gaining traction and ended on a good note, so TNT renewed Dallas for season three.
TNT has renewed the hit drama series Dallas for a third season. Produced by Warner Horizon Television, Dallas centers on the Ewing clan, an enormously wealthy Texas family whose sibling rivalries, romantic betrayals, corruption and even murder are truly legendary. TNT has ordered 15 episodes for the third season, which is slated to launch in early 2014.
"Dallas has built a passionately loyal following with its expertly woven storylines, clever twists and turns, and numerous outstanding performances by a cast that spans generations," said Michael Wright, president, head of programming for TNT, TBS and Turner Classic Movies (TCM). "Although we said goodbye to Larry Hagman and his iconic character J.R. Ewing this year, Dallas has many more stories left to tell, and the Ewing clan will continue to honor J.R.'s memory by keeping its audience surprised and delighted."
What do you think about this? Are you happy Dallas got renewed? Follow me on Twitter for more scoop on shows getting renewed like Dallas, or check the complete and updatable lists of renewed shows of 2013 and cancelled shows of 2013.
Comments
comments