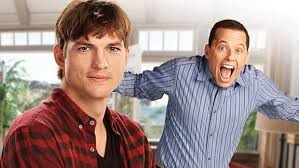 At some point this show will end, but that´s not the case for the time being, as Two and a Half Men has been renewed for season twelve. Although rumors say it´s for a shortened final season. Maybe thirteen more episodes. The show is clearly not anymore about two and a half men, one a half of those are not anymore in the mix, there´s a girl now, and frankly; even though I like Ashton Kutcher a lot, his character is not even close to what Charlie Harper was for the show. But well, it keeps delivering good numbers, so why not bring it back.
Another year of bachelorhood brought many new adventures for roommates Walden Schmidt and Alan Harper. After his girlfriend turned down his marriage proposal, Walden was thrown back into the dating world in a serious way. He got invited to a threesome with Alan and his girlfriend, Lindsey, and then created a false identity in order to find a girl who wasn't after his money. When Walden's old friend Missy came to visit, Jake fell so head-over-heels for her he went AWOL from the Army. The guys may have thought things were going to slow down once Jake got transferred to Japan, but they were proven wrong when Jenny, a niece of Alan's who shares more than a few characteristics with her father, showed up at the beach house.
What do you think? Are you happy Two and a Half Men got renewed for season twelve? Follow me on Twitter for more scoop.
Comments
comments