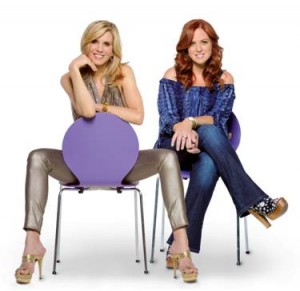 A new season of "Whatever, Martha!" is just around the corner. The show, in which Martha Stewart's daughter, Alexis Stewart, and co-host Jennifer Koppelman Hutt provide their unique brand of commentary  on vintage Martha Stewart episodes. Season 3 of will premiere April 8th at 11:30pm ET/PT on Hallmark Channel, immediately after the launch of "Whatever, You're Wrong," (April 8th at 11:00pm ET/PT) a brand-new new topical late night talker, also hosted by the duo.
What is Whatever, You´re Wrong About?
"Whatever, You're Wrong" (11:00 pm ET/PT) features the hilarious pair delivering their unique and witty take on the news of the day, human interest fare and "whatever" comes to mind and provides Jennifer and Alexis with a late-night platform to tell it like it is, according to them. The new series is taped sans a studio audience, allowing the spotlight to shine on their colorful, color commentary.  Prompted by their love of candid conversation, "Whatever, You're Wrong" will tackle topics with the kind of candor that the pair are best known for: ranging from the super-mundane and the ridiculous (relationship advice from their favorite pet expert to their deep love of candy) to more serious issues surrounding motherhood, friendship and family.  This fast-paced weekly series shows the girls can laugh at themselves and everything around them.
What is Whatever, Martha about?
In every half-hour episode of "Whatever, Martha" (11:30 pm ET/PT), Alexis and Jennifer wax poetic about vintage Martha Stewart episodes, commenting on Martha's performance, dated appearance and wide range of projects with their honest, frank and hilarious point of view.  A critical hit, touted by Entertainment Weekly as "juicier than any steak the domestic diva ever cooked up," "Whatever, Martha!" was developed by Martha herself after watching countless episodes of "Mystery Science Theatre 3000" on sleepless nights.  After a visit last season from Martha herself, Alexis and Jennifer invite more surprise guests in these new episodes, including comedian and satirist Mo Rocca poking fun at a buffet segment and dissecting grooming habits, and editor and fellow Sirius host Judith Regan, who dishes on dating.  Even family members are in on the fun when writer and director Brian Koppelman (Jennifer's brother) discusses films with Alexis and Jennifer.  Throughout the new season, the duo explores everything imaginable, and then some, from making pet rocks and learning how to tie a knot to discussing cat hammocks.  They even make fun of themselves from an old episode of Martha Stewart Living when they visited a fortune cookie factory.
What do you think? Will you watch Whatever you´re wrong or whatever, Martha on Hallmark Channel? Let me know
Also, remember to follow me on Twitter for more Whatever scoop.
Comments
comments