What´s New on Netflix on August 2018?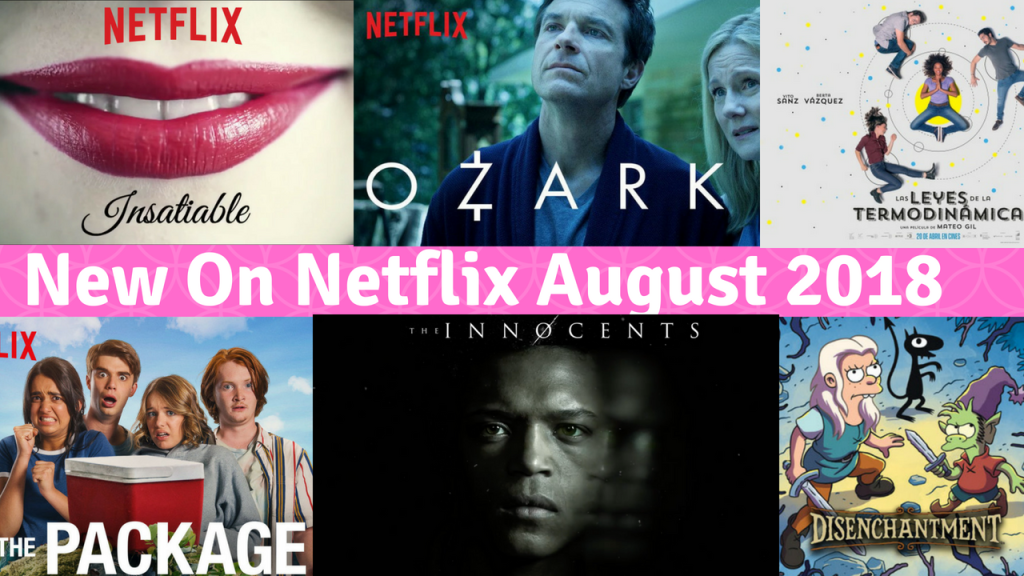 New on Netflix – August 2018
Shows and Films premiering on Netflix in August 2018
In this video we´ll take a look about what´s New on Netflix August 2018.
August 3rd
Like Father
When a workaholic young executive (Kristen Bell), is left at the altar, she ends up on her Caribbean honeymoon cruise with the last person she ever expected: her estranged and equally workaholic father (Kelsey Grammer). The two depart as strangers, but over the course of a few hilarious adventures, a couple of umbrella-clad cocktails and a whole lot of soul-searching, they return with a renewed appreciation for family and life.
August 4th
Flavors of Youth
Told in three chapters in three cities, Flavors of Youth explores the simple joys of life through sensual memories and how the beating heart of love cannot be defeated by the flow of time.
August 10th
Insatiable
For years, Patty (Debby Ryan) has been bullied, ignored, and underestimated by those around her because of her weight. But now that she finds herself suddenly thin, Patty is out for payback against anyone who has ever made her feel bad about herself.
La Casa de las Flores
The dark comedy revolves around a seemingly
successful and idyllic family-run flower business
full of dysfunctional secrets.
The Package
When five youngsters go on a spring break camping trip, an unfortunate accident sets off a race against time to save their friend's most prized possession.
Demetri Martin: The Overthinker
With his signature one-liners and drawings, Demetri Martin muses on doughnut holes, dogs, sports bars, the alphabet's most aggressive letters and more.
All About The Washingtons
All About The Washingtons is an autobiographical scripted family sitcom that follows Joey Washington (Rev Run aka Joseph Simmons) and his wife Justine Washington (Justine Simmons), playing fictionalized versions of themselves raising a family of kids.
August 17th
To All the Boys I´ve Loved Before
What if all the crushes you ever had found out how you felt about them…all at once? Lara Jean Song Covey's love life goes from imaginary to out of control when the love letters for every boy she's ever loved—five in all– are mysteriously mailed out.
The Motive (aka El Autor)
An aspiring writer with no imagination seeks inspiration for his novel by manipulating the lives of his neighbors so that he can write about them.
Disenchantment
In Disenchantment, viewers will be whisked away to the crumbling medieval kingdom of Dreamland, where they will follow the misadventures of hard-drinking young princess Bean, her feisty elf companion Elfo, and her personal demon Luci.
August 23rd
Follow This
A behind the scenes look at
BuzzFeed newsroom.
August 24th
Ghoul
Ghoul is a chilling series about a prisoner who arrives at a remote military interrogation centre and turns the tables on his interrogators, exposing their most shameful secrets.
The Innocents
When teenagers Harry and June run away from their repressive families to be together, they're derailed by an extraordinary discovery – June's ability to shape-shift.
Bert Kreischer: Secret Time
Comedian Bert Kreischer is ready to take his shirt off and "party hardy" with his debut Netflix Original stand-up special, Bert Kreischer: Secret Time.
August 31st
The Comedy Lineup
Quick wit takes on a whole new meaning
when a group of fiercely funny, emerging
comics take the mic for a series of 15-minute stand-up sets, filmed live in front of an intimate crowd at Atlanta's historic Terminal West.
Ozark Season 2
Ozark continues to follow Marty Bryde and his family as they navigate the murky waters of life within a dangerous drug cartel.
The Laws of Thermodynamics
Tracks the tumultuous romance between Manel and model-turned-actress Elena. Gliding seamlessly back and forth through space and time, the film takes us on a whirlwind tour of seduction and ecstasy, heartbreak and regeneration.
Video by Guillermo Paz
www.seriesandtv.com
Soundtrack
Cosmic Love by Bruno E.
Hi Q by Diamond Ortiz
Comments
comments