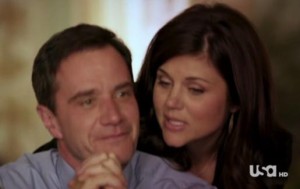 Good TV is back! Well… set your calendars, since White Collar comes back on Tuesdays 10/9 C on USA. (It´s a new time slot).
We had nice interviews with Tiffany Thiessen and Hilarie Burton recently upped to series regular, and now, the newest episode of White Collar, called Countermeasures and starring Billy Dee Williams, AKA Lando Calrissian. When an old friend of June's late husband shows up at Neal's doorstep, Neal suspects he's looking for more than a trip down memory lane.
Matt Bomer and  Billy Dee Williams sing together in this episode as Neal and Ford.
Best Quotes from White Collar S02E13 Countermeasures
Neal: Nice work
Mozzie: Work implies I have a job
Neal: Partners in crime
Ford: Something like that
Diana: Afraid to lose that nice roof of yours
Peter: I´m sorry
Elizabeth: Good boy
Peter: Thank you
Neal: Rigging cards in your own joint, that´s risky
Ford: She sees us for who we really are
Neal: Are you really here for that
Ford: I´m here looking for a second chance
Neal: That´s good, I thought you may be here for something else
Neal: How do you feel about dinner parties
Peter: I hope this is a non sequitor
Peter: Neal, I said no, find another way
Mozzie: Are you having a party over there? Without me?
Neal: Come with me, right now
Mozzie: What´s old becomes new again
Peter: I´m not comfortable with this
Peter: You look like a twelve years old who just found the lingerie section of the Sears catalog
Ford: You two really work together
Ford: He was protecting me from myself
Ford: I came back to protect her
Ford: Old Habits
Peter: It´s like they are speaking criminese
Ganz: Can you trust the kid?
Ford: Hell no, but what choice do I have?
Peter: You can either be a con or a man, you canpt be both
Peter: Neal, it´s me
Mozzie: You are too late
Ganz: Are you for real sweetheart?
Diana: Is that real enough for you sweetheart?
June: It´s ok, I´ve always known the kind of man he was
June: Maybe I want to go dancing again
Neal: May I?
Mozzie: The true love? Yeah, that´s the biggest con of all
Recap from White Collar S02E13 Countermeasures
Recap by MikeSaros
Open with Neal touching base with Mozzie who is working on the fractal.
Neal meets a man who calls himself Ford. He is friends with June. She's given him things and this bothers Neal. Ford says he's an old friend of June's husband but doesn't elaborate.
Neal goes to Diana for help fingerprinting a coin Ford tossed him.
The coin comes back with the fingerprint of a murder suspect and career criminal named Jonas Ganz. The only problem is that the man in the file is not Ford.
It turns out Ford was a real estate crook and roommate of Ganz' in the joint. 20 years earlier Ford did time with June's husband for running an illegal casino on the floor of June's house where Neal now lives.
Neal finds June in his room looking through some old pictures. She says Ford had been asking about a suit her husband wore in one of them. When she leaves Neal finds the suit and grabs a receipt out of one of the pockets. Ford knocks on his door and tells Neal he hopes he would be understanding of an ex-con. He says that he ran several poker games in the room Neal lives in while also being a crooked dealer. June comes up and they ask Neal to dinner. She leaves and Ford says he's looking for a second chance.
Mozzie tells Neal he thinks Ford is trying to scam June and agrees to hang around the house and watch June. Peter calls with word Ganz is putting together a crew for a new heist. Peter wants to question Ford but Neal thinks the better way to play it for him and Elizabeth to join him at dinner.
Peter is at dinner under the pretense of being a former criminal partner of Neal's. After dinner Neal leaves to answer a call from Mozzie. Word on the street is that Ford is well-respected and smooth. Mozzie has enhanced the receipt. It is for one of June's coffee tables and it has had some custom work done. While Neal's gone they start looking through photo albums. Upstairs Neal opens a secret compartment in the table and finds what looks like plates for making counterfeit $100 bills. Neal brings Peter up to see it but they are already gone. They walk outside and learn Ford is gone as well.
Neal and Peter discuss that Ford would need to steal paper in order to make the bills. While wondering if that might be what Ganz' crew was going to do Diana tells them Ford was grabbed outside Ganz' place.
Ford tell Neal and Peter that he told Ganz about the plate while they were inside in exchange for protection. June's husband stole the plate from Ford in order to protect him for getting in trouble. Ford said all he was doing was giving the plate to Ganz so he wouldn't go near June looking for it. He has told Ganz what he'll need to print the bills. Ford scrapes his fingertips every morning to remove prints.
Peter doesn't trust Ford. Neal isn't sure. Peter wants to put Neal and Ford undercover.
Under the pretense of Neal being a replacement forger, he and Ford meet with Ganz. All goes well (Neal is asked to pick the fake among some IDs) until Ford makes a comments that reveals he knows more than he should about Ganz' last forger. Guns come out and Peter's team prepares to move in. Neal quickly covers for Ford. Ganz says Neal will be handling the job without Ford.
Peter and Neal think Ganz' next move will be getting paper. Using the name from one of the fake IDs they locate a likely spot where Ganz will look to steal the paper.
Mozzie and Neal doubt that Ford will be able to resist the temptation of a last big score.
Cut to Diana telling Peter that Ganz and Ford are off the grid. Peter hears the paper they believe will be stolen is in transit and we see Ganz show up at Neal's place and grab him.
Ganz (without Ford) wants Neal to ID which paper they should take off the truck. They pull over the truck and Neal takes the paper.
Ganz and Neal show up at the counterfeiting location and we see Ford waiting for them. He's been in on everything from the beginning. Neal starts making money for them.
Peter asks Mozzie for help finding Ford. Peter remembers there was a photo album Ford seemed nervous about during dinner. They spot a likely location.
Cut to a police car showing up outside the counterfeiting spot. A nervous Ganz leaves and Ford reveals the cop was there for a cat-in-tree call and this was Ford's way of getting rid of Ganz. He has given Ganz a case without the plates. But after Ganz leaves Peter and his team show up. Ganz is arrested and we see his case contained money. Inside Ford grabs a gun and a case, presumably containing the plates. Neal tells Ford it's not too late for him if Neal backs his story. Ford says to tell June he's sorry and leaves out the back.
Cut to Ford opening the case in a nearby alley and seeing that it contains only blank paper.
June tells Neal she knew what kind of man Ford was. She thinks she gave him another shot to recall the past.
Neal and Mozzie talk about the future and it's revealed the plate may have found its way back into June's table.
So, What did yout think about White Collar Countermeasures with Billy Dee Williams? Let me know your thoughts in the comments section.
Also, remember to follow me on Twitter for more White Collar scoop.
Comments
comments