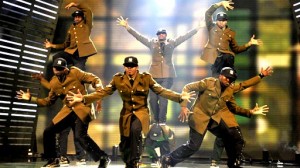 Britain´s Got Talent is a great show, where Paul Potts and George Sampson came out… and where Susan Boyle made a breaking performance for You Tube.
Britain's Got Talent is a British television show on ITV and part of the Got Talent series. Presented by Ant & Dec, it is a search for Britain's next best talent act featuring singers, dancers, comedians, variety acts, and other talents of all ages. Anyone who believed they have talent was encouraged to audition. The winner of both series received £100,000 and are given the opportunity to perform at the Royal Variety Performance in front of members of the Royal Family, including the Queen.
On the Second Semifinal, Flawless closed the show with a great performance, and showed Diversity they are the ones that rock it.
Who are Flawless on Britain´s Got Talent?
MEMBERS AND AGES: x10 in total:
Marlon Wallen 24, Anthony Duncan 27, Nathan Kabongo 20, Paul Samuels 20, Allan Kabeja 23, Christian Alozie 24, Leroy Dias Dos Santos 24, Simon Smith 21, Paul Steadman 32, Nathan Gordon 23.
FROM: London
TALENT: Street Dancing
BACKGROUND: Flawless aged 20 – 30 have 11 members and are currently one of the biggest dance troupes in the UK and were formed 4 years ago by Marlon the group's choreographer. They have entered the competition to show that Britain has got talent and has talented dance groups that are better than the Americans. The guys want to inspire children from problem communities to channel their aggression and energy into something positive. Their main moto is 'chase the dream, not the competition'. Marlon and the rest of the lads would love to win the £100,000 and set up their own little dancing empire where they could teach children and help build their confidence in day to day situations.
Video of Flawless on Britain´s Got Talent Semifinal!
Click To Play
So did you like Flawless Video on Britain´s Got Talent Semifinal?
Comments
comments