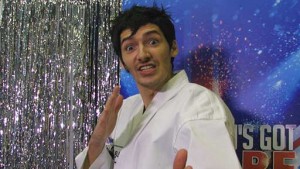 Britain´s Got Talent is a great show, where Paul Potts and George Sampson came out… and where Susan Boyle made a breaking performance for You Tube.
Britain's Got Talent is a British television show on ITV and part of the Got Talent series. Presented by Ant & Dec, it is a search for Britain's next best talent act featuring singers, dancers, comedians, variety acts, and other talents of all ages. Anyone who believed they have talent was encouraged to audition. The winner of both series received £100,000 and are given the opportunity to perform at the Royal Variety Performance in front of members of the Royal Family, including the Queen.
On the Second Semifinal Gareth Oliver almost got it, after his ventriloquist show got a tons of votes from the audience.
Who is Gareth Oliver on Britain´s Got Talent?
Ventriloquist Gareth Oliver made quite an impression with on the judges on Britain's Got Talent on Saturday night.
With his fresh comedy take and voice-throwing talents, his act was a million miles away from the standard ventriloquist get-up.
Gareth gambled by putting a new twist in his act – but the gamble paid off.
And although we didn't see much of his routine, we saw him earn enough votes to see him though to the next round of the show.
28 year-old Gareth, who "is from Halifax originally, but moved down to Kent to make my fortune," was delighted.
He told us, "I've done normal ventriloquism for a long time, and I've also done my badly dubbed act, and an echo".
"People tend to be more freaked out and impressed by that stuff because it's a little bit different".
"Ventriloquists tend to get a bad name – 150 years old, wearing a suit handed down by their grandfather and saying, 'Gottle of gear, gottle of gear'".
"This type of act does get pigeon-holed sometimes. But I'm trying to break all the rules!"
Gareth knew he had only a few seconds in front of the judges to make his (badly-dubbed or otherwise) voice heard.
"I was too scared to even say what my act was when I went on stage. They were like, 'What do you do?' and I said 'Something different!'"
"They said, "What's that?' and I said, 'You'll see!'"
"To be honest, I knew they hate putting ventriloquists through – so I was scared to say the word in case I couldn't pronounce it under pressure. I was hyperventilating!"
He grinned, "This was a high risk routine – but luckily, it seems to have a high reward!"
Video of Gareth Oliver on Britain´s Got Talent Semifinal!
Click To Play
So did you like Gareth Oliver Video on Britain´s Got Talent Semifinal?
Comments
comments