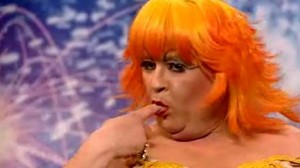 Britain´s Got Talent is a great show, where Paul Potts and George Sampson came out… and where Susan Boyle made a breaking performance for You Tube.
Britain's Got Talent is a British television show on ITV and part of the Got Talent series. Presented by Ant & Dec, it is a search for Britain's next best talent act featuring singers, dancers, comedians, variety acts, and other talents of all ages. Anyone who believed they have talent was encouraged to audition. The winner of both series received £100,000 and are given the opportunity to perform at the Royal Variety Performance in front of members of the Royal Family, including the Queen.
On the Second Semifinal, Peter Coghlan came to shock us but only got a second class performance. At least I expected more.
Who is Peter Coghlan on Britain´s Got Talent?
Meet Peter Coghlan, or, as he likes to be called when he dons his orange wig, Mama Trish! For the last 26 years family man Peter has been working the pubs and clubs with his drag act, but has now decided it's his time he shone in the Big Time.
"I feel I've done my apprenticeship now… and if I get there it will be a dream come true."
After a laugh and a joke with the judges Peter's audition begins in earnest. The fur coat falls to the ground, Holly Valance's Kiss Kiss fills the theatre, and Mama Trish's belly starts to wobble!
Half-sickened, half-enraptured, the audience wail their approval as Mama Trish shakes her belly up and down, and side-to-side. Then, as the crowd are reaching fever pitch, Mama sticks her finger into her belly-button and rolls it around before popping it straight into her mouth! YUK!!
The judges recoil in horror!
When the act is over it has evidently all been too much for Simon.
"That was the lowest form of entertainment I've ever seen!" he says before explaining he would never send an act like that before the Royal Family.
Amanda, however, was much more positive. "I would like to see some more of that! This show is all about embracing the eccentricity of this country, and you epitomise that!"
Piers also enjoyed the act. "Peter, we are looking for a big talent and they don't come much bigger than you, quite frankly! I found you weirdly hypnotic!"
When the votes were cast it was two 'yes' votes to one 'no', and Peter was through to the next round!
Video of Peter Coghlan on Britain´s Got Talent Semifinal!
Click To Play
So did you like Peter Coghlan Video on Britain´s Got Talent Semifinal?
Comments
comments