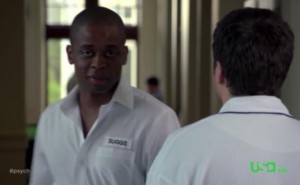 A new episode of Psych tonight.Another Psych brilliance, and in this case, more Psycho than ever.
The homage to One Flew Over the Cuckoo´s Nest episode! with guest stars Molly Ringwald and Brad Dourif. Can Psych get any better? These guys keep topping themselves.
It's another undercover assignment for Shawn and Gus when SBPD asks them to infiltrate the local mental hospital. They must prove that the billionaire recently found "not guilty by reason of insanity" after he murdered his assistant is just as sane as they are. Well, as sane as Gus at least. So Shawn and Gus go undercover at a mental institution to crack the case and overturn a fake insanity plea.
Best Quotes and Spoilers from Psych S06E06 Shawn Interrupted
Shawn: I´m going up to my room to play Legend of Zelda
Shawn: Thank you for making my point
Jules: I´m making the exact opposite of your point
Gus: Does he think the TV can hear him?
Jules: The man is a genius. He fooled a jury; I don´t think he´s going to fall for you dressed as Lord Kensington
Lassiter: Henry Spencer, I don´t know where you are going with this, but I´m loving it
Shawn: That´s my daddy
Gus: He is the only one of us who can pass as someone in need of institutionalization
Shawn: I´ll take that as a compliment
Gus: I wouldn´t
Lassiter: I insist. When we are done, he stays an extra 24 hours for a psychiatric evaluation.
Henry: How about 48?
Lassiter: Done
Shawn: (Crazy laugh) I´m going in
Shawn: I have a keen understanding for the inside of a mental hospital
Jules: Watching Girl Interrupted six times doesn´t make you an expert
Shawn: No, but seven does. Gus and I Netflix it last night
Gus: Where´s Lisa, where´s Lisa?… that´s from the movie
Jules: You guys are the only ones who got it
Shawn: Besides Winona Ryder
Gus: Oh my God, are those Lakers tickets in your pocket?
Gus: Right idea, wrong choice of words
Shawn: I´m the magic man
Bernie Bethel: You can get Skittles in here?
Shawn: I can do anything
Lassiter: Spencer, you are talking to the wrong plant
Jules: Are you sensing something else?
Shawn: No, I have water stuck in my ear
Lassiter: As much as I hate it to say: It´s time to take Spencer out of the looney bin
Shawn: Lavender, really?
Lavender: My parents were hippies
Gus: Evil hippies. You know that´s right
Shawn: What are you telling me? That you are a Kenny G fan?
Gus: A little bit, yes. This song
Nicknames from Psych S06E06 Shawn Interrupted
Gus has the name tag "Suggs" in his uniform, and says he does not like that name. Shawn tells him it suits him, and it´s Gus spelled backwards.
Shawn is introduced as Shawn Gthorndal (It´s pronounced Thorndal, it´s a silent G)
Where´s the pineapple in Shawn Interrupted?
It is in the basket in the Jamba Juice. And Shawn asks for three Pineapple smoothies
What did you think about Psych Shawn Interrupted? Let me know in the comments section.
Also, remember to follow me on Twitter for more Psych scoop and spoilers.
And you can also check other Psych tidbits, such as Shawn and Gus Nicknames, Psych Pop References from season 1, Psych Pop References from season 2 an interview with James Roday and Dule Hill I did, among others.
Comments
comments