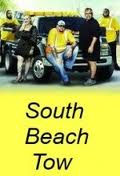 We keep working on things for our list of renewed shows on 2011 and all the cancelled shows on 2011, and in this case it´s good news for the towing company… since TruTV renewed South Beach Tow for a second season.
The first season of South Beach Tow has been steadily good for TruTV in the ratings department, so it´s not surprising to see a renewal. Let´s remember the show has been averaging 1.6 million viewers, and a little shy of 900,000 in the adult 18-49 coveted demo.
Second season renewal order for South Beach Tow is for thirteen episodes, and will begin production later this year, and is slated to air in 2012.
What is South Beach Tow About? Plot Synopsis
South Beach Tow is an American television program that depicts the world of car repossession with a team of actors who portray fictionalized tales of repossessions from South Beach, Florida.
The Ashenoff family runs the business, and they are also the stars of the show, with Robert Senior and Robert Junior in front of the cameras, accompanied by Christi.
What do you think about South Beach Tow being renewed for a second season? Let me know in the comments section.
Also, remember to follow me on Twitter for more canceled and renewed shows as South Beach Tow scoop.
Comments
comments