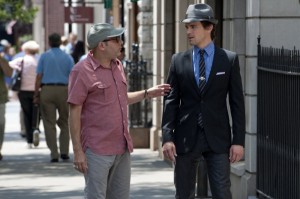 We are reviewing all the cancelled shows and renewed shows of the season.
And today is Happy Monday for USA Network shows. And to fans of good TV. One of my favourite "never misses" networks, such as USA Network renewed White Collar today for a third season.
This one is not a shocker at all, and it was expected to read that USA Network renews White Collar, but, it´s always good to hear official confirmation, right?
White Collar renewal order is a 16 episode sixth season, something traditional in USA Network shows, and dare I say it, the length I prefer for shows in order not to drag around storylines and extend them further than should be (something that often happens in netowrk 22-24 episodes orders), nor to rush them a lot (something that happens in 10 – 12 episodes orders from cable networks). So, it´s official for me, USA Network is the best never can miss one network, with all of its shows being great. I mean, there are plenty of good shows around in many networks, but the only with a 100% efficiency rate is USA Network with Burn Notice, Psych, In Plain Sight, Law & Order Criminal Intent, Royal Pains and Covert Affairs, and none show cancelled in its rookie season.
What do you think about White Collar being renewed by USA Network? Are you happy White Collar is renewed? Let me know in the comments section.
Also, remember to follow me on Twitter for more cancelled and renewed shows news.
What is White Collar About? Plot
"White Collar" stars Matt Bomer, Tim DeKay, Tiffani Thiessen, Willie Garson and Sharif Atkins in one of this fall season's most critically acclaimed dramas about the most unlikely of partnerships between a con artist and an FBI agent.
USA Network Photo Credit: David Giesbrecht
Comments
comments