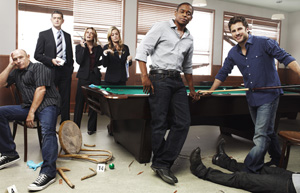 We are reviewing all the cancelled shows and renewed shows of the season.
And today is Happy Monday for USA Network shows. And to fans of good TV. One of my favourite "never misses" networks, such as USA Network renewed Psych today for a sixth season.
This one is not a shocker at all, and it was expected to read that USA Network renews Psych, but, it´s always good to hear official confirmation, right?
Psych renewal order is a 16 episode sixth season, something traditional in USA Network shows, and dare I say it, the length I prefer for shows in order not to drag around storylines and extend them further than should be (something that often happens in netowrk 22-24 episodes orders), nor to rush them a lot (something that happens in 10 – 12 episodes orders from cable networks). So, it´s official for me, USA Network is the best never can miss one network, with all of its shows being great. I mean, there are plenty of good shows around in many networks, but the only with a 100% efficiency rate is USA Network with Burn Notice, Psych, In Plain Sight, Law & Order Criminal Intent, Royal Pains and Covert Affairs, and none show cancelled in the rookie season.
What do you think about Psych being renewed by USA Network? Are you happy Psych is renewed? Let me know in the comments section.
Also, remember to follow me on Twitter for more cancelled and renewed shows news.
What is Psych About? Plot
A quick-witted drama, Psych stars James Roday ("The Dukes of Hazzard") as young police consultant Shawn Spencer who solves crimes with powers of observation so acute the precinct detectives think he's psychic – at least that's what he lets them believe. The series also stars Dulé Hill ("The West Wing") as Shawn's best friend and reluctant sidekick Gus and Corbin Bernsen ("Kiss Kiss Bang Bang," "L.A. Law") as Shawn's disapproving father, who ironically was the one who honed his son's "observation" skills as a child. Also featured are Timothy Omundson ("Judging Amy," "Deadwood"), Maggie Lawson ("Crumbs," "Inside Schwartz") and Kirsten Nelson ("Everwood").
USA Network Photo Credit: Williams & Hirakawa
Comments
comments