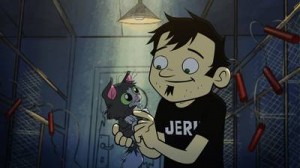 We are reviewing all the cancelled shows and renewed shows of 2011.
And today The Hub,  went a long way in the making sure good kid tv is back front. It has launched a whole bunch of shows. Renewing ten shows and announcing 9 new original series and getting also the rights for Are You Smarter Than a Fifth Grader?
The Hub Renewed Dan Vs for a new season.
What is Dan Vs about? Plot
In this new animated series, Dan's ceaseless quest for justice leads him and his friends into adventures, misadventures and absolute catastrophes! Unlike most people, if someone or something wrongs him, Dan won't rest until he's settled the score. In the series, Dan takes on a different adversary in every episode ranging from Santa Claus to the state of New Mexico. Dan's a perpetual underdog that everyone will be rooting for, despite his overwhelmingly bad odds!
Are you happy Dan Vs got renewed by The Hub? Let me know in the comments section.
Also, remember to follow me on Twitter for more Cancelled and renewed shows as Dan Vs scoop.
Comments
comments