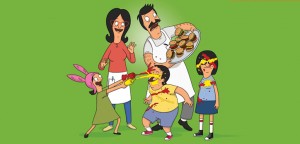 Another animated show joining the list of renewed shows of 2012, and avoiding the list of cancelled shows of 2012 for another year, and Fox renews Bob´s Burgers for season four in what can be called a no brainer, since the show is posting ratings growth in season three to what it had on seasons past.
FOX has ordered a fourth season of 22 all-new episodes of the Emmy-nominated animated comedy BOB'S BURGERS, it was announced today by Kevin Reilly, Chairman of Entertainment, Fox Broadcasting Company.
"We love BOB'S," said Reilly. "We are really proud of the way the show has grown over the past three seasons – without losing the unique voice at its core – and we know that the best is yet to come for BOB'S BURGERS and its fans."
BOB'S BURGERS recently was nominated for an Emmy Award for Outstanding Animated Program as well as for a 2012 Critics' Choice Television Award for Best Animated Series. Premiering earlier this fall, BOB'S BURGERS displayed the greatest year-to-year growth of any returning broadcast series and ranks No. 2 in its competitive Sunday time period among Men 18-49, Men 18-34 and Male Teens.
In the all-new "Bob Fires the Kids," episode of BOB'S BURGERS airing Sunday, Oct. 21 (8:30-9:00 PM ET/PT) on FOX, Bob worries he's depriving his children of their summer vacation by making them work at the restaurant, so he fires them. However, the kids become so bored with their newfound freedom that they secretly get hired by a pair of married hippie farmers (guest voices and real-life spouses Nick Offerman and Megan Mullally), who hire the Belcher kids as "weed pickers." Meanwhile, Bob hires Mickey The Bank Robber to help out at the restaurant, but soon regrets his decision.
This season, BOB'S BURGERS also serves up holiday cheer with the series' first-ever Thanksgiving and Christmas episodes. In the upcoming Thanksgiving episode, Bob's eccentric landlord, Mr. Fischoeder (guest voice Kevin Kline), invites the Belchers for an unusual Thanksgiving dinner to impress a former flame. In the Christmas episode, Zach Galifianakis guest-voices as a man who is infatuated with a mannequin, and believes he used to be a mannequin himself. Other guest voices this season include Jon Hamm, Jeffrey Tambor, Aziz Ansari, Bill Hader and Sarah and Laura Silverman.
BOB'S BURGERS follows a third-generation restaurateur as he runs his own burger joint with the help of his wife and their three kids. Bob has big ideas about burgers, condiments and sides, but only a few thoughts on customer service and business management. Despite his greasy counters, lousy location and occasionally spotty service, Bob is convinced his burgers speak for themselves. The animated series features the voice talents of H. Jon Benjamin, John Roberts, Dan Mintz, Eugene Mirman and Kristen Schaal.
What do you think? Are you happy that Fox renewed Bob´s Burgers for season four? Head to the comments to discuss.
Also, follow me on Twitter for more scoop on shows being renewed as Bob´s Burgers did.
Comments
comments