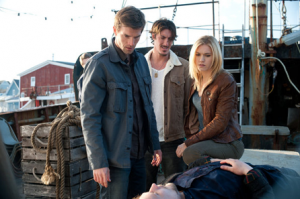 Sometimes it´s hard, and sometimes it´s a relief, but I still keep ut the job on the lists of cancelled shows of 2012 and renewed shows of 2012. In this case, it´s relief as Syfy renewed Haven for season four. Regarding the renewal order, Syfy president Mark Stern said "We couldn't be happier to see the story of Audrey Parker and the creepy, quirky town of Haven continue next year."
Fourth season renewal order for Haven consists of thirteen episodes set to air in 2013.
What is Haven about? Plot Synopsis
Based on the novella "The Colorado Kid" from renowned author Stephen King, "Haven" is a Syfy series that follows FBI agent Audrey Parker (Emily Rose) who arrives in the small town of Haven, Maine to solve the murder of a local ex-con. Before long, her natural curiosity lands her at the epicenter of activity in the curious enclave — which turns out to be a longtime refuge for people with a remarkable range of supernatural abilities.
Among the townspeople are local cop Nathan Wuornos (Lucas Bryant), who eventually becomes Audrey's partner, and the mysterious and charming Duke Crocker (Eric Balfour).
The impressive creative team behind Haven includes show-runner Scott Shepherd ("Tru Calling," "The Dead Zone") who is joined by his partners, executive producers Lloyd Segan and Shawn Piller (both for "The Dead Zone," "Wildfire," "Greek"), as well as E1 Entertainment's John Morayniss ("Hung," "Copper") Noreen Halpern ("Hung," "Copper"), Laszlo Barna ("The Bridge") and Michael Rosenberg ("Hung," "The Riches").
The series pilot was written by Sam Ernst ("Shrek the Third," "The Dead Zone") and Jim Dunn ("Shrek the Third," "The Dead Zone"), who will also serve as executive producers on the series. "Haven," from E1 Entertainment in association with Pillar, Segan and Shepherd.
What do you think? Are you happy Syfy renewed Haven? You can also follow me on Twitter for more scoop on shows getting renewed like Haven has.
Comments
comments