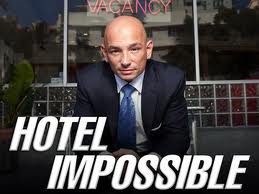 Seems like Hotel revamping is on a roll, as Hotel Hell getting renewed already joined my lists of cancelled shows of 2012 and renewed shows of 2012, and now Travel Channel renews Hotel Impossible for a second season too.
Hotel Impossible second season will consist of 13 one-hour episodes to premiere  on Monday, December 3, 2012 at 10:00 p.m. ET/PT. The second season of "Hotel Impossible," Produced by Atlas Media Corp. with Travel Channel's Brian Leonard as Executive Producer, will continue to transform struggling and under-performing hotels into bustling tourist destinations through the help of hotel "fixer" Anthony Melchiorri.  After secretly scouting each property, Melchiorri identifies its biggest problems and then meets with the staff and owners to determine its key operational issues. As in last season, Melchiorri has just days to formulate a plan, revamp the hotel and re-motivate its staff.  For some hotel owners, this is their last hope.
Anthony Melchiorri is this show´s version of Hotel Hell´s Gordon Ramsay and Restaurant Impossible´s Chef Robert Irvine. You can choose your favourite and let me know.
What do you think? Are you happy Travel Channel renewed Hotel Impossible for season two? Let me know in the comments section.
Also, remember to follow me on Twitter for more scoop on shows getting renewed as Hotel Impossible did.
Comments
comments