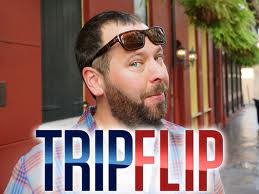 Travel Channel´s been very active today on my lists of cancelled shows of 2012 and renewed shows of 2012, with the pickup of freshman shows. In this case, Travel Channel renewing Trip Flip for a second season. Trip Flip second season order consists of Thirteen new half-hour episodes that already have begun production and will air in 2013.
Trip Flip, Produced by High Noon with Travel Channel's Stone Roberts as Executive Producer.
Premiering in 2013, professional fun-seeker and travel expert Bert Kreischer is back and offering the opportunity of a lifetime, in "Trip Flip." Every week he convinces two random people to spontaneously agree to a three-day surprise vacation. Kreischer delivers an action-packed itinerary stacked with the kind of VIP-access, accommodations, gourmet food, unexpected twists and celebrity appearances that only Travel Channel can deliver. And forget about guidebooks and tour buses, because every "Trip Flip" is designed to get vacationers off the beaten path, out of their comfort zones and into the mind-blowing, life-changing experiences that inspire us all to travel in the first place.
What do you think? Are you happy Travel Channel renewed Trip Flip for season two? Let me know in the comments section.
Also, remember to follow me on Twitter for more scoop on shows getting renewed as Trip Flip did.
Comments
comments