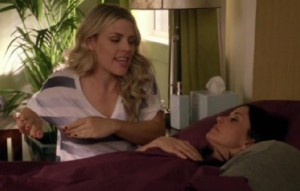 Ok, so Cougar Town is the best show with the worst name. And the ensemble cast from the show (Courteney Cox, Busy Phillips, Christa Miller, Ian Gomez, Dan Byrd and Josh Hopkins is great in the chemistry department. In this episode, when while the guys argue that men are loyal friends and women will abandon their pals at the drop of a hat, one thing is certain — everyone has each other's backs in the cul-de-sac crew. Although Laurie may be the worst houseguest ever, Jules is there for her when she needs a place to stay; Laurie helps Jules to realize she doesn't need to change for others; and when Bobby is jealous that Travis has gone to Grayson for advice, Grayson comes through for his buddy.
Best Quotes from Cougar Town S02E12 – A Thing About You
Jules: Jayson sucks. It´s a real name. How about Grules?
Grayson: Grules sounds like something little orphans eat. Excuse me, sir. Can I have some more grules?
Jules: Do you think one year from now we´d be living together?
Grayson: Bye bye nice moment
Andy: What if when we met I was a millionaire? Would we have ended up together?
Ellie: I don´t know; but I would´ve had sex with you sooner
Andy: We are making the arm?
Grayson: I´m making a point
Andy: Oh. Warm
Travis: Estevez Festevez
Travis: Can I ask you a relationship question?
Jules: No one is ever going to love you as much as I do
Travis: Yes. That´s why I´m asking him
Ellie: You are Laurie proofing your apartment
Laurie: Hey Ellie
Ellie: Hey Racoon
Laurie: I can´t believe you have Grayson listed as G-Luv
What did you think of Cougar Town A Thing About You? Let me know in the comments section. Also, remember to follow me on Twitter for more scoop and spoilers on Cougar Town.
Good luck is also, that Cougar Town gets renewed for season three.
Comments
comments