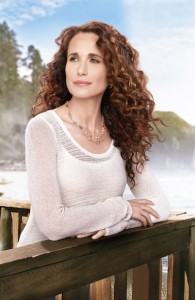 This is Hallmark Channel´s first scripted original series, and it will premiere soon, when it has its Hallmark Channel Original Series World Premiere Saturday, July 20 (8p.m. ET/PT, 7C); that´s whn Debbie Macomber´s Cedar Cove kicks off its run.
In "Debbie Macomber's Cedar Cove," Golden Globe® winner Andie MacDowell plays Judge Olivia Lockhart whose Cedar Cove Municipal Court is the professional milieu and social microcosm of issues the judge will face in her own day-to-day life with family and friends. Veteran actor Dylan Neal plays Jack Griffith, the new editor of the Cedar Cove Chronicle and budding love interest for Judge Lockhart. The series is based on the bestselling book series Cedar Cove by #1 New York Times bestselling author, Debbie Macomber.
In the two-hour pilot, Judge Lockhart is overjoyed to hear that her name is being put forth for appointment to a Federal judgeship in Seattle by her longtime friend, Senator Pete Raymond. Olivia asks that her family keep the news a secret. In the meantime, Jack Griffith, desperate for a meaningful news story, corners Olivia's mother who inadvertently tells the editor about everything in her daughter's life – including the possible appointment. Suddenly, Olivia (much to her chagrin) is front page news. In the courtroom, Olivia rejects Cecelia and Ian's petition for divorce, because she is convinced the young couple still loves each other. In the meantime, Olivia's feelings about daughter Justine's suitor couldn't be colder.
Will you watch Debbie Macomber´s Cedar Cove on Hallmark Channel? Follow me on Twitter for more scoop.
Comments
comments