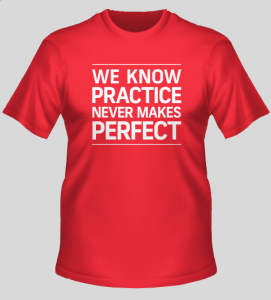 To make things interesting, I´m adding a new contest and giveaway for all of you folks over here, but I´m shaking things up a bit, since there will be three prizes in this one, so you will have three chances to be the winner. As Golf Channel is launching a new campaign, "We Know We're Different" that looks to celebrate  the ups and downs and quirks of golf that they share with their viewers every day, and now, they want everyone to chip in and tell them why you are different.
Any golfers can tweet why they are different @GolfChannel and some of the best answers will be RT'd! You can include this video in your tweet as to have more inspiration.
And now, back to the contest:
WHAT CAN YOU WIN ON THIS golf channel CONTEST AND GIVEAWAY?
Prize Pack contains
1. A Code for a Custom "We Are Different" T-shirt (The winner will be able to customize their OWN shirt based on the "We Are Different" campaign)
2. A Golf Channel Towel
3. A Golf Channel Sleeve of Golf Balls
This prize is provided by Golf Channel, but Golf Channel is not a sponsor, administrator, or involved in any other way with this giveaway. Contest open to US residents only.
The contest starts when this article goes live and lasts until February 25th 12 PM PT
HOW TO ENTER golf channel CONTEST AND GIVEAWAY?
Now things get interesting. As there will be three winners, one will be picked randomly from the comments here in this article, another one will be chosen from the blog´s Facebook fans who enter the contest over there, and the third one will be picked randomly among all participants here and there.
To be elligible to win the one over here, head to the comments and answer me this, Why are you different?
Now for the answers, you´ll have to put yours in the comments section (make sure you fill the form with a valid e-mail address and put guillermo @ seriesandtv.com in your white mail list so if you are the winner you can get my e.mail letting you know, since I´ll contact the winner through e-mail).
HOW TO GET EXTRA ENTRIES:
– Like Series and TV on Facebook
– Like this article on Facebook
– Tweet this article
– Pin This Article
Will you enter Golf Channel contest and giveaway? Let me know in the comments section.
Also, remember to follow me on Twitter for more Contests and Giveaways.
Comments
comments