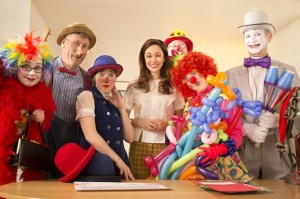 Hallmark Channel is bringing Holiday Season earlier this year, and we already talked about the premiere of Christmas Song with Natasha Henstridge and Gabriel Hogan, but now it´s time to talk about another one, the cabler is premiering the following day, as Love at the Thanksgiving Day Parade will premiere Sunday, November 4th at 8PM ET/PT, 7C on Hallmark Channel, starring Autumn Reeser, Antonio Cupo, Ben Cotton among others.
What is Love at the Thanksgiving Day Parade about? Plot Synopsis
As Chicago gears up for its annual Thanksgiving Day parade, Emily Jones (Reeser), an eager parade coordinator is shocked when Henry Williams (Cupo), a wealthy new development consultant, is brought in to analyze the parade's finances.  Faced with the challenge of teaching him that the parade means so much more to her than dollar signs, she suddenly finds herself reluctantly falling for him.
Having Autumn Reeser headlining a rom-com made for TV should be reason enough to watch this film. Don´t you think?
What do you think? Will you watch Love at the Thanksgiving Day Parade on Hallmark Channel, November 3rd 8/7 C?
Let me know in the comments section. Also, remember to follow me on Twitter for more Hallmark Channel scoop.
Comments
comments