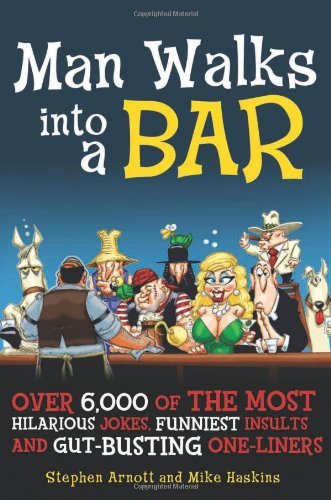 A book filled with jokes. Almost 500 pages of jokes. Talk about a good present for that uncle who´s always making you cry laughing! Well, as any book of jokes, Man Walks into a bar´s thing is consistency. You can sustain 500 pages of short jokes and have all to be good. Some are plainly awfully bad, some are not politically correct but funny, some are politically incorrect and bad. But some are very funny. I say this is a very good book to be a great holiday gift idea for someone who tells tons of jokes at parties. That way, you have him/her curate the book of the bad jokes and only tell you the good ones. It´s probably a 25% rule: There are 25% funny jokes, 25% ok jokes, 25% bad jokes and 25% rolling my eyes at you for saying that jokes.
But, considering you start at 500 pages, and you have an average of 4 jokes per page, that gives you about 500 funny jokes and a full thousand of tellable jokes at parties. If you see that friend once a month at a party, that gives him/her a full year of jokes to tell; talk about a suiting gift for 2015!
Full Title: Man Walks into a Bar: Over 6,000 of the Most Hilarious Jokes, Funniest Insults and Gut-Busting One-Liners
Paperback: 498 pages
Publisher: Ulysses Press (February 13, 2014)
Language: English
ISBN-10: 1569756228
How to buy it? Visit this Amazon link.
I want to thank folks at Ulysses Press for sending me this book. I hope you continue sending me those. My review was unbiased by the gift.
What do you think about this book? Have you read it? Follow me on Twitter for more book reviews.
Follow Series & TV – TV & shows scoop's board Books – Reviews and Commentary on Pinterest.
Comments
comments