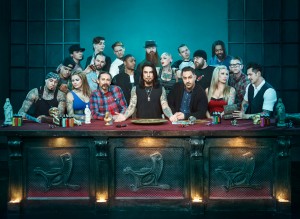 Article By Guillermo Paz
Tattoo television has been solid for a few years now, and so Ink Master, one of the reasons why Spike TV had the highest rated quarter in years, is getting renewed for season four that will have thirteen episodes in 2014.
"Ink Master" is hosted by music legend Dave Navarro (Jane's Addiction) and judged by renowned tattoo artists Chris Nunez ("Miami Ink") and Oliver Peck (Elm Street Tattoo). Sixteen contestants from around the country battle it out each week in permanent ink for a $100,000 cash prize, an editorial feature in Inked magazine and the bragging rights title of 'Ink Master. 'The show is produced for Spike TV by Original Media ("Swamp People," "NY Ink," "Comic Book Men," "The Rachel Zoe Project,") with Charlie Corwin and Andrea Richter serving as Executive Producers.
Season three (through Sept 24) of "Ink Master," pacing to have its most watched season ever, is averaging 2.1 million viewers and has improved the timeslot with Persons 18-34 by a remarkable 267% and 18-49 by 177%.
"Ink Master and Tattoo Nightmares have been great performers for Spike TV and have helped propel the network to its highest rated quarter with adults in four years," said Sharon Levy, Executive Vice President, Original Series, Spike TV.
What do you think? Are you happy Ink Master got renewed? Let me know in the comments section. Follow me on Twitter for more scoop or check the complete and updatable lists of renewed shows of 2013 and cancelled shows of 2013.
Comments
comments