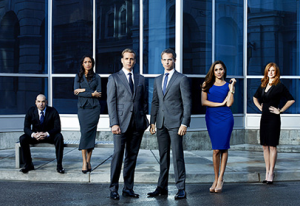 Just an hour after Covert Affairs premieres season four, USA is bringing back another fan favorite, with the premiere of season three of Suits on July 26 10/9 C. Now that´s what I call a must watch night on TV.
The critically acclaimed, award-nominated and top rated legal drama returns for its third season with a shift in the dynamics at the firm. After merging with a top British firm, Harvey Specter (Gabriel Macht) is at odds with his boss and mentor, Jessica Pearson (Gina Torres), and forces Mike (SAG Award nominee Patrick J. Adams) to do something he never thought possible – betray Harvey. Meanwhile, things with Mike and Rachel (Meghan Markle) get more complicated after Mike finally reveals his secret that he never actually went to Harvard – and they cross a line that can never be uncrossed. Remember, season three of Suits premieres July 16, and airs Tuesdays at 10/9c.
Things will probably shake up a bit after all the cliffhangers left by the ending of season two, the changes that are to come, and the tension between almost every character with each other.
What do you think? Will you watch Suits season three July 16 on USA? Follow me on Twitter for more scoop on the show.
Comments
comments