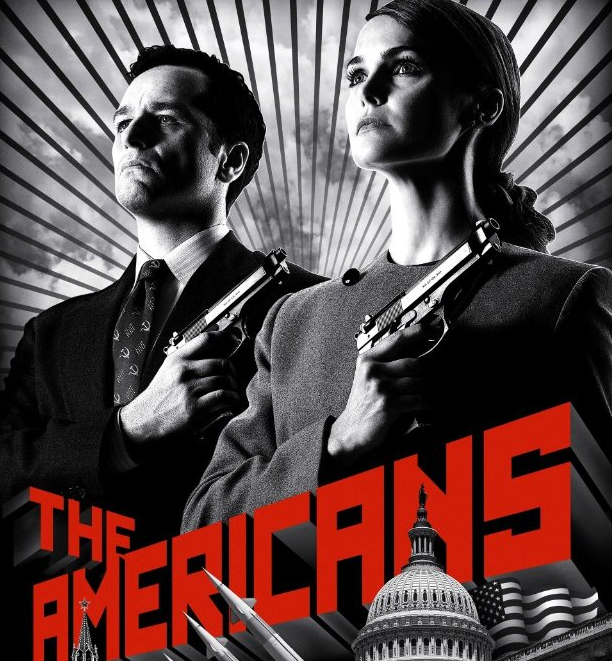 The list of entertainment programs chosen for the 74th annual Peabody Awards at the University of Georgia includes The Honorable Woman, a richly textured BBC drama that illuminates byzantine complexities in Middle East relations and boasts a towering lead performance by Maggie Gyllenhaal; Comedy Central's Inside Amy Schumer, a sharp-witted blend of sketches and interviews that's distinctly female yet gender-inclusive; and Jane the Virgin, a visually and narratively innovative CW series that employs the soap-operatic, telenovela form to tell a serialized tale, by turns whimsical and poignant, about a household of three generations of Latina women.
The Peabody Board of Judges also chose FX's The Americans, an ingenious melodrama about Reagan-era Soviet spies – married and the parents of budding American dreamers — that makes viewers care about them and their increasingly conflicted loyalties, and Fargo, which pits an upstanding, undeniable female cop against an almost supernatural villain. The FX series maintains the darkly comic tone of the Oscar-winning theatrical film while unspooling a distinctly different, more complex story.
Other entertainment winners were The Knick, Cinemax's fascinating historical drama about pioneering surgeons at an early 20th-century New York hospital; HBO's Last Week Tonight with John Oliver, which revisits the previous week's news with a satiric eye and an investigative reporter's curiosity; Sundance TV's Rectify, an understated, powerful drama about a man struggling to reconnect to his Georgia community after 20 years in prison; and Black Mirror, a dramatic anthology from Britain's Channel 4 that explores unsettling moral and ethical questions that bring to mind the work of Rod Serling and Roald Dahl.
The Peabody Awards' news and radio winners will be announced on Monday, April 20 on the Peabody website, www.peabodyawards.com, as will recipients in the areas of documentary, public service, education, and children's programming on Thursday, April 23.
Individual and institutional Peabodys, previously announced, are respectively going to Sir David Attenborough, the renowned British nature documentarians, and Afropop Worldwide, the long-running public-radio series devoted to the diasporic music of Africa and the long, ongoing creative dialogue it inspires in musicians and the music business worldwide.
These and other winners of the 74th annual awards will be presented with their award on Sunday, May 31, at the first-ever nighttime, red-carpet Peabody ceremony. Fred Armisen, a Peabody winner for his work on "Saturday Night Live" and his series "Portlandia," is set to host the gala at Cipriani Wall Street in New York. Pivot TV will use the ceremony as the foundation of a 90-minute Peabody special that will premiere June. 21.
The Peabody Awards, based at UGA's Grady College of Journalism and Mass Communication, are the oldest in electronic media and among the world's most prestigious and selective prizes. They recognize excellence and meritorious work by radio and television stations, networks, webcasters, podcasters, producing organizations and individuals. The 18-member Peabody Board is a distinguished panel of television critics, industry practitioners and experts in culture and the arts. For more information regarding the Peabody Awards program, please visit www.peabodyawards.com or follow @PeabodyAwards.
Established in 1915, the UGA Grady College of Journalism and Mass Communication offers undergraduate majors in journalism, advertising, public relations, digital and broadcast journalism and entertainment and media studies. The college offers several graduate degrees and is home to the Peabody Awards, internationally recognized as one of the most prestigious prizes for excellence in electronic media. For more information, see www.grady.uga.edu or follow @UGAGrady on Twitter.
74th Peabodys — The Short Citations for Entertainment Winners
The Americans (FX)
Fox Television Studios and FX Productions
In this ingenious, addictive cliffhanger, Reagan-era Soviet spies – married with children and a seemingly endless supply of wigs — operate out of a lovely 3BR home in a suburb of Washington, D.C. Between their nail-biter missions (and sometimes in the midst of them), the series contemplates duty, honor, parental responsibility, fidelity, both nationalistic and marital, and what it means to be an American.
Black Mirror (Channel 4)
Zeppotron/Channel 4
This cinematically arresting, brilliantly written series from England is an anthology of dark-side tales – dark as a black hole. If its narrative shocks don't wreck your sleep pattern, its moral conundrums will.
Fargo (FX)
MGM and FX Productions
"Fargo," the series, boasts the same snow-swept backdrop and dark, deadpan ambience as the Oscar-winning movie but tells a different, more complicated story. Its villain, Billy Bob Thornton's mischievous, murderous, charismatic Lorne Malvo, is a character worthy of Norse mythology.
The Honorable Woman (Sundance TV)
BBC Worldwide, Drama Republic, Eight Rooks Productions, Sundance Channel
A visually rich, densely-plotted thriller set against the backdrop of the Israeli-Palestine conflict, it suggests complexities and age-old vendettas that often escape even the best documentaries, to say nothing of the evening news.
Inside Amy Schumer (Comedy Central)
Jax Media LLC
Schumer's wholesome, disarming "Brady Bunch" looks belie and enhance a comic intelligence that's smart, distinctively female and amiably profane, whether she's applying it to sketch comedy, stand-up, or person-on-the-street interviews.
Jane the Virgin (The CW)
Eye Productions Inc., CBS Television Studios Inc., Warner Bros. Entertainment Inc., Electus; RCTV; Poppy Productions.
Immaculately conceived, it's a smart, self-aware telenovela that knows when and how to wink at itself. Its Latina lead, Gina Rodriguez, is incandescent.
The Knick (Cinemax)
Cinemax Entertainment in association with Ambeg Productions, Anonymous Contend and Extension 765
Graphic, gripping, unapologetically grisly when it has to be, this lavish historical drama masterfully dissects surgical experimentation, doctors' egos, race relations and socials mores in the New York City of 100 years ago. It gives new meaning to the term "operating theater."
Last Week Tonight with John Oliver (HBO)
HBO Entertainment in association with Sixteen String Jack Productions and Avalon Television
A most worthy addition to the news-as-comedy genre, "Last Week Tonight" doesn't just satirize the previous week's news, it engages in fresh, feisty investigative reports that "real" news programs would do well to emulate.
Rectify (Sundance TV)
Gran Via Productions, Zip Works
A powerful, subtle dramatic series about a death-row inmate freed after nearly two decades thanks to new DNA evidence, it ponders whether what's been lost can ever be repaid, not just to him but to everyone he and his alleged crimes touched.
74th Peabody Awards News and Radio Winners – The Short Citations
Betrayed by Silence (MRP)
Minnesota Public Radio News
This sobering investigative documentary took listeners inside the child sex-abuse scandal in the Archdiocese of St. Paul and Minneapolis, uncovering among other things how the archbishop who headed of the committee that wrote the U.S. Catholic Church's landmark abuse policy – the Charter for the Protection of Children and Young People – not only failed to follow it but participated in cover-ups.
Chris Christie, White House Ambitions and the Abuse of Power (WNYC Radio)
WNYC/New Jersey Public Radio
In a series of pithy news reports about the "Bridgegate" scandal, WNYC helped to link a disruptive bridge closure to a broader pattern of questionable political operations by New Jersey Gov. Chris Christie's office. Its coverage sparked national news attention, high-profile resignations in the Christie administration, and criminal investigations into the Port Authority.
The Cost of Troubled Minds (KVUE-TV, Austin, TX)
KVUE News, ABC 24
Reporter Andy Pierrotti's heavily documented investigation of Texas' mental-health care policies demonstrated that the state's penny wisdom has been profoundly pound foolish. Cutbacks and indifference ending up costing taxpayers more.
CNN's Coverage of Kidnapped Nigerian Schoolgirls
CNN
CNN approached the Boko Haram kidnapping horror from many angles, even moving Isha Sesay's daily show to Abuja to raise the profile of the #BringBackOurGirls campaign. Sesay's tough, live-TV interviewing, along with high-risk field reporting of Nima Elbagir, Arwa Damon and other CNN journalists, made the network's coverage comprehensive and indispensable
CNN Investigative Reports: Crisis at the VA
CNN
High-impact journalism, CNN's investigation into delays in care at Veteran Affairs hospitals exposed a systemic VA breakdown, eventually leading to the resignation of VA Secretary Eric Shinseki, the passage of federal legislation, and a dramatic change in how veterans' medical appointments are made, recorded and reported.
ISIS – Continuing Coverage (NBC, MSNBC)
NBC News, MSNBC
Reports on NBC and MSNBC about the rise of ISIS had an unsurpassed depth, contextualization and clarity thanks in large part to NBC News' chief foreign correspondent, Richard Engel, whose years of experience in the Middle East proved invaluable.
The Islamic State (VICE News)
VICE News
Journalist Medyan Dairieh spent three weeks filming inside the self-proclaimed caliphate of the Islamic State, and his resulting VICE News reports are remarkably up-close and enlightening, sometimes surreal, sometimes terrifying.
Last Chance High (VICE News)
VICE News
Students at Chicago's idyllic-sounding Montefiore Therapeutic Day School are actually one mistake away from jail or a mental hospital. This dramatic series of web reports and podcasts delved sympathetically but unsentimentally into their lives, contextualizing their problems and giving them a chance to speak.
NPR's Latino USA: Gangs, Murder, and Migration in Honduras (NPR)
Futuro Media Group, Round Earth Media, Radio Progreso, Freelance Producers
Vivid and scary, this hour-long report by Maria Hinojosa and "Latino USA" producer Marlon Bishop makes it clear why large numbers of Hondurans seek to escape the violence back home and enter the U.S.
Reporting From The Frontlines: The Ebola Outbreak (NPR, npr.org)
National Public Radio
NPR had a reporter in Guinea in early April, months before even world health officials understood the magnitude of the Ebola threat, and its coverage throughout 2014 was unsurpassed in scope and variety: insightful reports that didn't feature just Western experts, but also doctors, nurses, government officials from the heart of where Ebola was breaking out.
Serial (www.serialpodcast.org)
Serial/This American Life/Chicago Public Media
A audio game-changer, this compelling, multi-episode podcast closely examined the evidence against an 18-year-old facing a life sentence for murder, illuminating disturbing flaws in the justice system along the way. The first unquestionably mainstream podcast, it has been downloaded nearly 60 million times.
60 Words (WNYC Radio)
WNYC
A "Radiolab" collaboration with Buzzfeed reporter Gregory Johnsen, it takes a hard, disturbing look at the broad, malleable wording of the Authorization of Use of Military Force Act, approved by near-unanimous Congressional vote shortly after the 9/11 attacks, and how its interpretation has expanded military power and secrecy.
State of the Re: Union (NPR and PRX)
State of the Re: Union and WJCT Public Broadcasting, Jacksonville
The great news about SOTRU is that it purveys good news– not soft, sugarcoated features but grassroots reporting that demonstrates how everyday people, both rural and urban, are figuring out ways to tackle their communities' problems.
Under the Radar (Scripps Washington Bureau)
Scripps Washington Bureau
Mark Greenblatt's outstanding, exhaustive investigative review of court martial cases uncovered more than 240 convicted rapists, child molesters and other sex offenders who have slipped through loopholes that allow them to stay off public sex-offender registries when they leave the brig and return to civilian life.
What do you think about these winners? Are they deserving? Let me know in the comments section. Follow me on Twitter for more scoop.
Comments
comments