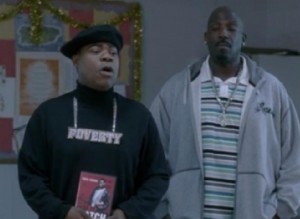 Tina Fey owns Hollywood right now… she´s in the top of the world… and that has a lot to do with 30 Rock. One of the funniest sitcoms nowadays.
In this episode of 30 Rock Liz and Avery convince Jack to come clean about things that he's been keeping from his mother when she visits him for Christmas. Later, Liz attempts to mend Jenna's relationship with Paul. Meanwhile, Tracy buys the rights to a film he shot so that it will never be released and compromise his new, more serious persona.
Best Quotes from 30 Rock S05E10 – Christmas Attack Zone
Pete: Ever since Tracy got nominated for a Golden Globe he thinks he´s
Sean Penn
Liz: I think I have become a body language expert
Liz: Oh! I am the Mentalist!
Colleen: I´m going upstairs to think some more comments for tomorrow
Milton: And Liz, you are already showing
Liz: No, it´s not me!
Milton: We have a tradition in my family that we let the child name itself
Avery and Jack: Not gonna happen
Milton: Suit yourself, but my son Spiderman has turned just fine
Liz: Who hasn´t made mistakes? I once french kissed a dog to impress what turned out to be a really tall twelve years old
Tracy: People only take you seriously when you are serious
Colleen: This thing hasn´t even started. Welcome to my Christmas Attack Zone!
Milton: Listen to me. I am a doctor!
Jack: Of History! In what emergency would you be necessary? If someone wanted to know if the sixties were awesome or not
Milton: They were
Milton: It is a miracle it wasn´t a heart attack
Jack: Yes, I believe that a heart is required for that
Liz: I´ll go first. I have a crush on The Mentalist
Jack: Family moment only Lemmon
What did you think of 30 Rock Christmas Attack Zone? What did you think of 30 Rock christmas Dinner? Let me know in the comments section. Also, remember to follow me on Twitter for more scoop and spoilers on 30 Rock.
Comments
comments