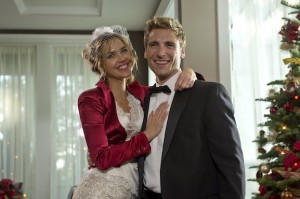 Since we are closing in on the year, in the last quarter already, most TV networks are starting to roll out their Christmas and Holidays specials, so I´m compiling an updatable programming list of Christmas and Holidays movies, episodes and specials. And now it´s time to talk about A Bride for Christmas, a new movie on Hallmark that will premiere Saturday, December 1st at 8/7 C PM, starring Arielle Kebbel, Andrew Walker and Sage Brocklebank.
What is A Bride for Christmas about? Plot Synopsis
If we have learned nothing else from reality television, it's that seemingly sane people will commit to marry without any greater motivation than the fact it seems kind of like a good idea at the time.  What this Hallmark Channel Original Movie World Premiere tells us, however, is that some people will try to get married as part of a bet between friends. "A Bride for Christmas" – premiering Saturday, December 1 (8p.m. ET/PT, 7C).  It stars Arielle Kebbel ("90210," "Life Unexpected") as Jessie Patterson, a gorgeous interior designer who seems to have some trouble saying the word "No." It has gotten her engaged three times to the wrong men and forced Jessie to break their hearts. As the movie opens, Jessie is doing what she does best – calling off a wedding at the last minute – to Mike (Sage Brocklebank, "Psych"). But since she's a sensitive soul, Jessie is devastated by all the pain she's caused and vows to swear off of men forever rather than inflict further harm. Enter stockbroker Aiden O'Brien (Andrew Walker, "Against the Wall"), a charming ladies' man who has some major issues with commitment. That is, until Aiden wagers with his friend Matt during a poker game that he can convince a lady to say "Yes" to a marriage proposal by Christmas – a mere four weeks away. If he wins, he gets the corner office. If not, Aiden is pushed to take a tiny cubicle. Soon enough, Aiden is moving in on Jessie for the phony proposal. But he soon realizes the damage he can inflict on Jessie and he calls off the bet, but not before the two of them have fallen in love for real. Just as they're planning a real wedding, however, Mike returns to break the news of the original bet. But you know how true love is. It finds a way to blossom, particularly before Christmas.
Will you watch A Bride for Christmas on Hallmark? Let me know in the comments section, or follow me on Twitter for more Hallmark scoop.
Comments
comments