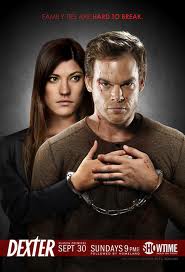 Dexter is fresh from finishing a great episode called Run, in which Dex and Deb are finally looking eye to eye, or at least, starting to go that route, and next week´s episode sure seems great. In an episode called Swim Deep, written by Scott Reynolds, directed by Ernest Dickerson, where while trying to uncover why Louis was killed on his boat, Dexter must out-maneuver Isaak, who's after Dexter – and Debra. New leads are brought to light on the Wayne Randall killing spree case by his alluring former accomplice, Hannah McKay, who Dexter discovers has a secret.
So now, as every week let´s preview in a non spoiler way Dexter S07E05 Swim Deep. Next Sundays episode.
Dexter S07E05 Swim Deep preview and best quotes and moments – unspoiler
The previously on Dexter still gives me the chills, and this quote specially:
Dexter: That smoke is Speltzer, how do you feel?
Debra: Glad, what does that make me?
Dexter: She didn´t abandon me.
Harry: She didn´t embrace it either.
Harry: I did all I could to protect her from you.
Dexter: Blood, it´s not from Victor, I never leave a mess behind. Who´s been on my boat?
Dexter: This is too much blood. Someone died here, someone I didn´t kill.
Debra: I will look into this, you just fucking relax.
LaGuerta: I never believed Doakes was the killer.
LaGuerta: Your eyes only.
Debra: My eyes only.
The blood on my boat belongs to Louis Green? He is dead? Why was he killed? Why was he on my boat?
Debra: How the fuck do you lose a bloodslide?
Dexter: That night at the church was not exactly by the playbook.
Dexter: These three are mine.
Debra: This is never going to end, right?
Dexter: They were bad people.
And that´s up to ten minutes in the episode. So that´s as far as I am going to go so I don´t give spoilers on Dexter S07E05 Swim Deep episode.
What do you think? Will you watch Dexter next week? Do you think, like me, that LaGuerta may be killed off soon? Let me know in the comments section. Also, follow me on Twitter for more Dexter´s scoop.
Comments
comments