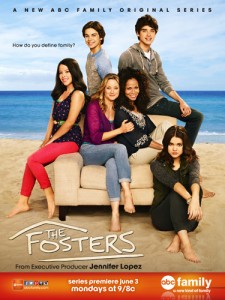 The show had already gone from half a season to full season order earlier this year, and now, the official announcement for the renewal of The Fosters reads quite clearly as to why ABC Family is bringing the show back.
"The Fosters." The order came as production continues on the first season of the series, which premieres new episodes in January, 2014.
"'The Fosters' has demonstrated its ability to build an audience, and the creative team's compelling storytelling assures us that there will be more growth in upcoming season," said Kate Juergens, Chief Creative Officer and Executive Vice President, Programming, ABC Family. "The shows dynamic cast and groundbreaking storylines resonate with our core viewers and leave them wanting more."
"The Fosters" ranked as the #1 new cable TV series of the summer in Viewers 12-34 and Females 12-34, gaining momentum each week heading into the season finale, which set series highs in Total Viewers and across target 18-34, 18-49 and 12-34 demos. Of all current ABC Family original series, "The Fosters" is the network's #2 series in target demos, behind only "Pretty Little Liars."
You can follow social conversation about it at #TheFosters.
What do you think? Are you happy The Fosters got renewed? Let me know in the comments section. Follow me on Twitter for more scoop or check the complete and updatable lists of renewed shows of 2013 and cancelled shows of 2013.
Comments
comments