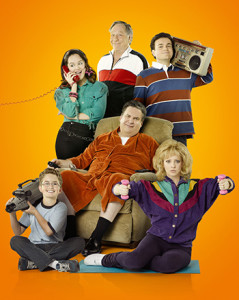 This is a refreshing show that makes me think a lot in The Arnolds of The Wonder Years; just that it´s based in the eighties instead of the sixties as the latter.
But a show getting the brothers dynamic, the bigger sister; the dad and the mom; and while there´s no show like The Wonder Years, The Goldbergs is quite good, and deserved this second season order; so, ABC renewed The Goldbergs, and we will get them in 2015 on our TV.
For geeky 11-year-old Adam (Sean Giambrone), these were his wonder years, and he faced them armed with a video camera to capture all the crazy. The Goldbergs are a loving family like any other — just with a lot more yelling. Mom Beverly (Wendi McLendon-Covey) is a classic "smother," an overbearing, overprotective matriarch who rules this brood with 100% authority and zero sense of boundaries. Dad Murray (Jeff Garlin) is gruff, hot-tempered and trying to parent without screaming. Sister Erica (Hayley Orrantia) is 17, hot, terrifying and not one to mess with. Barry (Troy Gentile) is 16, an overly emotional teen with severe middle child syndrome. Adam (Sam Giambrone) is the youngest, a camera-wielding future director who's crushing on an older woman. Rounding out the family is beloved grandfather Al "Pops" Solomon (George Segal), the wild man of the clan, a shameless Don Juan who's schooling Adam in the ways of love. When Pops buys a new sports car and offers his Caddy to middle child Barry, it's enough to drive this already high-strung family to the brink of chaos.
What do you think? Are you happy The Goldbergs got renewed? Follow me on Twitter for more scoop.
Comments
comments