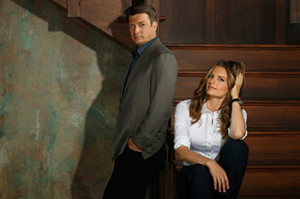 This is Nathan Fillion and Stana Katic together on screen, a.k.a. magic! So why wouldn´t they renew it forever and ever? Well, I´m not sure about the forever thing, but certainly for another run, as ABC renewed Castle for season seven and counting.
This show gets better and better over time, with cliffhangers after every season finale. And we are all expecting to see what will happen when season six of Castle ends, and how they set things up for season seven. I´m betting this one can get to ten seasons…
Next episode, season six finale, called "For Better or Worse" — Castle and Beckett's long-awaited wedding is almost here, but when a shocking surprise threatens to ruin the big day, they are sent on a wild mission filled with masked men, angry bikers and a charming ne'er-do-well from Beckett's past (guest star Eddie McClintock, "Warehouse 13"), on "Castle," MONDAY, MAY 12 (10:01-11:00 p.m., ET) on ABC.
"Castle" stars Nathan Fillion as Richard Castle, Stana Katic as NYPD Detective Kate Beckett, Tamala Jones as Medical Examiner Lanie Parish, Jon Huertas as NYPD Detective Javier Esposito, Seamus Dever as NYPD Detective Kevin Ryan, Penny Johnson Jerald as NYPD Captain Victoria Gates, Molly Quinn as Alexis Castle with Susan Sullivan as Martha Rodgers.
So, what do you think about this piece of news? Are you happy Castle got renewed for season six? Do you think the show will get to ten? Let me know your thoughts. Also, follow me on Twitter for more scoop on cancelled and renewed shows.
Comments
comments