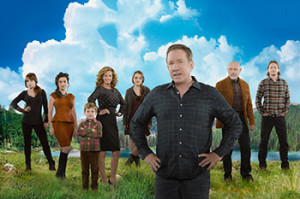 This show was on the bubble for things unrelated to its performance, fanbase or critics. It was because of a hard fought negotiation between the network and the studio on the conditions to bring it back. After that was settled, it was time to do the announcement, and now ABC renewed Last Man Standing for season four.
Mike and his wife, Vanessa, a geologist working for an oil company, realize their family nest is getting a little smaller. As their three daughters grow up and move on, Mike and Vanessa confront that quintessential parenting dilemma about how much they can still influence their kids.
Mike especially feels that pain when his six-year-old grandson, Boyd, moves out of the Baxter home along with his mother, oldest daughter Kristin. Boyd is the real "last man standing," and Mike will persist in trying to save the boy from his liberal-thinking parents.
Kristin, in addition to wanting to become more independent, has moved into an apartment in downtown Denver with her son and baby-Daddy, Ryan (Jordan Masterson). The 24-year-old single mom no longer toils away at a greasy spoon diner, but is now the manager of an upscale restaurant.
Back home, it's an exciting time of broadening horizons for 18-year-old Mandy Baxter, a freshman attending UC Denver and trying to keep up in a competitive university atmosphere. Mandy struggles with her new college identity – does she go the sorority route and try to carry over her popular girl status from high school, or does she embrace her newly-blossoming intellect — such as it is?
Like her older sisters, 15-year-old Eve Baxter is also spreading her wings a bit. And boys are taking notice – much to Mike's discomfort. He doesn't like having to watch his last daughter and "little buddy" turn into a woman. Eve is still a tomboy at heart and active in Junior ROTC at her high school, carrying this gung-ho attitude into every project she takes on, which makes papa Mike very proud.
As usual, Mike tries to escape any female drama at home in the warm, manly embrace of his job at the Outdoor Man store, an sporting goods store where he is marketing director. But lately this hasn't been so easy, with Vanessa increasingly encroaching on this safe haven and Mandy's steady boyfriend, Kyle, working there. Mike's long-time boss and friend, Ed Alzate, continues to provide a slightly warped sounding-board as Mike considers the various thorny issues confronting him at home.
What do you think? Are you happy Last Man Standing got renewed for season four? Follow me on Twitter for more scoop on shows getting cancelled and renewed.
Comments
comments