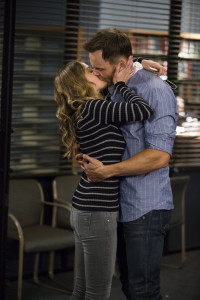 This one will hurt the huge fanbase of Human Beings who follow Community. Because NBC has decided to cancel Community, the perennial bubble show after five seasons; which is an amazing run, considering it was always odubted to come back. And also, luckily, it had the chance to go out with a creative high after Dan Harmon was brought back as showrunner for the final season. Everybody (and by that I mean fans) wanted #Sixseasonsandamovie but it got to five seasons and no movie, but… since Hulu just bought the rights for reruns (Netflix has those too), can one of them please bring the show back for a sixth season? And then we fans do a Kickstarter thingie for the movie, ok?
Same year that How I Met Your Mother ends, is the year that Community gets cancelled? What am I going to watch you ask? Well, there´s still good comedies around, but those two were family to its viewers.
And please, oh please, get some more Alison Brie on TV ASAP!
Community Plot for the final season
At the center of the group is Jeff Winger (Joel McHale, "The Soup"), a fast-talking lawyer who was caught with a phony college degree. Winger was dis-barred until he could earn a legitimate degree and chose Greendale, thinking he could breeze through the mediocre school without a hitch. He, however, soon found himself the reluctant leader of a disparate group of misfits, all stuck at Greendale for different reasons.
The study group includes Britta Perry (Gillian Jacobs), who dropped out of high school to "change the world" and soon found herself in her thirties with no marketable skills; Shirley Bennett (Yvette Nicole Brown), a religious housewife who landed at Greendale after a messy divorce and is now blossoming into a headstrong entrepreneur; Abed Nadir (Danny Pudi), a socially awkward, but well-meaning, pop culture savant; Annie Edison (Alison Brie), a high-strung perfectionist; Troy Barnes (Donald Glover), a former high school football star still trying to find his way; and, Ben Chang (Ken Jeong ), a former Spanish teacher who is either insane or an evil genius, or both.
What do you think? Are you bummed NBC cancelled Community? Would you watch it on Netflix or Hulu? Follow me on Twitter for more scoop.
Comments
comments