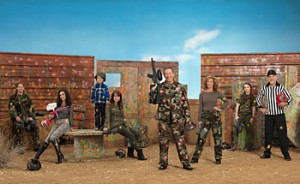 Tim Allen always performs well, he´s a bonafide safe bet for a show, and that´s exactly what Last Man Standing is. A steady performer that you can´t go wrong with. So, ABC renewed Last Man Standing for season three.
In the revamped second season, there was a change in the casting of the oldest daughter, and even though it was downgrading, it turned out to be a blessing in disguise for the middle daughter as she turned out to be the star of the season.
In Last Man Standing, Mike is often the odd man out in a home dominated by his loving wife and three daughters. He finds himself more frequently at odds with wife Vanessa, a geologist working for an oil company. Each has a strong point of view on a variety of issues ranging from the environment, holiday chores and whom to stay friends with after a divorce to grand-parenting their 5-year-old grandson, Boyd — possibly Mike's only ally.
This season daughter Kristin, a 23-year-old living at home and single mom to Boyd, will be more of a force to reckon with for Mike; the two disagree about most aspects of politics, and especially about child-rearing. Outspoken Mandy, 18, continues as family diva and teenage drama queen, stirring up trouble by taking a romantic interest in Kyle, sister Kristin's former boyfriend. And Eve, 14, struggling to shake off the role of being a tomboy and daddy's favorite, will do some adolescent acting out of her own.
Compared to home, Mike might be more in charge at his job at The Outdoor Man, an iconic outdoor sporting goods store where he is marketing director. He works alongside his long-time boss and friend, Ed — who has reconciled with one of his ex-wives — and the somewhat sensitive Kyle, who considers Mike his mentor. When Ed put Mike in charge of The Outdoor Man's webpage, Mike discovered that the Internet provided him just the outlet he needed… a platform that gives him a voice to appeal to those who agree that manliness is under assault, and a pulpit for his opinions about feeling like the last real man in a feminized world. It was men who built civilizations, invented the locomotive and created ESPN, after all, and Mike Baxter is determined to do what he must to reclaim his manly place in his home and at his job.
What do you think? Are you happy Last Man Standing got renewed? Follow me on Twitter for more scoop on shows getting renewed like Last Man Standing, or check the complete and updatable lists of renewed shows of 2013 and cancelled shows of 2013.
Comments
comments