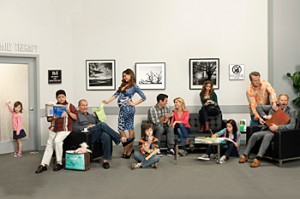 In the so obvious it was happening kind of news front, ABC renewed Modern Family for season five. The only way this announcement would not happen is if the microphone on the press upfront got screwed. But then again, renewal would come minutes later. Maybe even after a zombie apocalypse this show would still be renewed. It´s Modern Freaking Family after all. The funniest mockumentary, the best performing broadcast comedy behind The Big Bang Theory and the best one for ABC.
The Pritchett-Dunphy-Tucker clan is a wonderfully large and blended family, with Jay Pritchett sitting at the head. By his side is his young, vivacious second wife, Gloria, who resists his old-fashioned ways — an impulse that will become all the more interesting now that he and Gloria are expecting a baby of their own! This exciting new addition will bring lots of change for everyone, including Gloria's precocious son, Manny, who has always had his mom to himself. Jay's grown daughter, Claire, is going through the opposite kind of adjustment with her husband, Phil, as they deal with eldest daughter Haley's leaving the nest and heading off to college. This new chapter brings on a whole set of new parenting firsts, while book-smart middle daughter Alex and scatterbrained son Luke are still keeping everything very lively back at home. And it's been a rollercoaster of a year for Claire's brother and Jay's grown son, Mitchell, who alongside loving life partner Cameron, went through a disappointing attempt to adopt a second child and find a sibling for little Lily. The young family will redirect their focus when they take an extended vacation — and when Cameron returns to the workforce this year. Together these three families give us an honest and often hilarious look into the sometimes warm, sometimes twisted embrace of the modern family.
"Modern Family" stars Ed O'Neill as Jay Pritchett, Julie Bowen as Claire Dunphy, Ty Burrell as Phil Dunphy, Sofía Vergara as Gloria Pritchett, Jesse Tyler Ferguson as Mitchell Pritchett, Eric Stonestreet as Cameron Tucker, Sarah Hyland as Haley Dunphy, Nolan Gould as Luke Dunphy, Ariel Winter as Alex Dunphy, Rico Rodriguez as Manny Delgado and Aubrey Anderson-Emmons as Lily Tucker-Pritchett.
What do you think? Are you happy Modern Family got renewed? Follow me on Twitter for more scoop on shows getting renewed like Modern Family, or check the complete and updatable lists of renewed shows of 2013 and cancelled shows of 2013.
Comments
comments