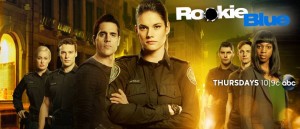 Five years and still a rookie? Not so much, the show is already becoming a solid veteran, and with the renewal of Rookie Blue for season five, the show will cross the magic number of 100 episodes. The fifth season of the series will start development in the fall and will move into production in January 2014. 
In Thursday's 10 o'clock hour, ABC's "Rookie Blue" is the No. 1 series in Total Viewers this summer to date. The ABC drama is growing over its prior summer average by 15% in Total Viewers to deliver its most-watched season in 3 years – since Summer 2010.
The one-hour, dramatic series provides a candid look at the personal and professional lives of five rookie cops. Now in their fourth year on the job, these officers continue to face new challenges every week, trying to roll with the punches without looking like the rookies they still feel they are. Andy McNally and Nick Collins were gone six months for their undercover operation. While they were gone, everything seems to have changed at 15 Division. Last season our officers all got what they thought they wanted — and then had to deal with the repercussions. This season they have to look change in the eye and learn to adapt — leaving them all with some big, bold choices to make. Learning to adapt is part of life; these five new officers are putting that life lesson into practice on every single shift.
"Rookie Blue" stars Missy Peregrym as Andy McNally, Gregory Smith as Dov Epstein, Charlotte Sullivan as Gail Peck, Enuka Okuma as Traci Nash, Travis Milne as Chris Diaz, Peter Mooney as Nick Collins, Ben Bass as Sam Swarek, Priscilla Faia as Chloe Price and Rachael Ancheril as Marlo Cruz. Also starring in the series is Matt Gordon as Oliver Shaw, and Lyriq Bent as Frank Best.
What do you think?  Are you happy Rookie Blue got renewed? Let me know in the comments section. Follow me on Twitter for more scoop or check the complete and updatable lists of renewed shows of 2013 and cancelled shows of 2013.
Comments
comments