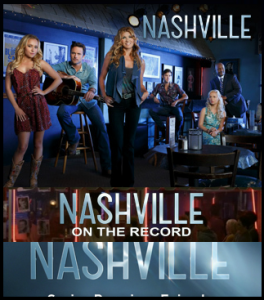 Nashville, the new musical phenomenon started yesterday, and today you can check all the music from Nashville´s Pilot, but also, the series has launched a new webseries called On The Record, the Nashville webisode series, and its first webisode is up. It is  a documentary web series that follows the life of original songs performed on "Nashville" written by singer/songwriters in the music scene, from the songs' inception to on-air premiere. The series offers an intimate look into the songwriting process behind this fall's most anticipated drama. Take a journey from guitar demo to music video — and all the steps in between — with special appearances by the cast and executive producers. This week's episode, shot on location in Nashville at The House of Blues Recording Studios and in Los Angeles, features interviews with executive producer and creator Callie Khouri, executive producer R.J. Cutler and cast members Clare Bowen and Sam Palladio. Check out the first episode here: http://bit.ly/ABCNashvilleWebSeriesFS.
"Nashville" stars Connie Britton as Rayna Jaymes, Hayden Panettiere as Juliette Barnes, Clare Bowen as Scarlett O'Connor, Eric Close as Teddy Conrad, Charles Esten as Deacon Claybourne, Jonathan Jackson as Avery Barkley, Sam Palladio as Gunnar Scott, Robert Ray Wisdom as Coleman Carlisle and Powers Boothe as Lamar Wyatt.
What do you think? Will you watch Nashville webisode series On The Record? Let me know in the comments section. Also, follow me on Twitter for more Nashville scoop.
Comments
comments