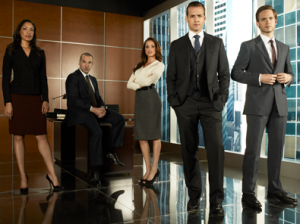 It´s always nice to see good shows make it on the list of renewed shows of 2012, and not  end up on the list of cancelled shows of 2012, this time, I have such news to bring: USA renewed Suits for season three.
It´s no wonder that USA renewed Suits, as it midseason finale notched 6.5 million viewers and has still the backseason to air with six more episodes starting in January.
Season three order for Suits is for 16 episodes that will start production soon and is being targeted for a summer of 2013 premiere.
What is Suits about? Plot Synopsis
"Suits" delves into the fast-paced, high-stakes world of a top Manhattan corporate law firm where Macht stars as legendary law partner, Harvey Specter, and SAG Award-nominee Adams stars as his brilliant, but not-technically-legal associate Mike Ross. Despite his lack of bonafide credentials, Mike's photographic memory and encyclopedic legal knowledge make him an invaluable asset to Harvey. The dynamic duo have managed to guard the secret thus far, but as the first season came to a close, Mike's future hangs in the balance when his ex-best friend sets out to expose him to the firm's top suit, Jessica Pearson (Torres).  But, Jessica could have bigger problems on her hands when the other half of Pearson Hardman, Daniel (guest star David Costabile) reemerges on the scene. Meanwhile, Mike's love life has become complicated after he crossed the line with the firm's best paralegal and his only friend in the office, Rachel (Markle).  In addition to Costabile, guest stars for the season include Eric Close, John Finn, Margo Martindale and Rachel Harris. From Universal Cable Productions, "Suits" was created and is executive produced by Aaron Korsh ("The Deep End"). Doug Liman ("Covert Affairs," the "Bourne" trilogy, "Mr. and Mrs. Smith") and David Bartis ("Covert Affairs," "The O.C.") of Hypnotic also serve as executive producers.  Gene Klein ("Covert Affairs"), Jon Cowan and Daniel Arkin serve as co-executive producers.
What do you think? Are you happy that USA renewed Suits for season three? Head to the comments to discuss.
Also, follow me on Twitter for more scoop on shows being renewed as Suits did.
Comments
comments