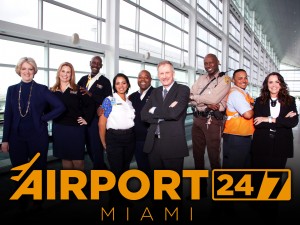 April on Travel Channel will see Toy Hunter premiere its second season, but also the premiere of a new season of Airport 24/7: Miami which brings back the nine larger-than-life characters whose jobs it is to keep one of America's largest airports running around the clock.  The series grants an all-access pass inside the intense and dramatic world of Miami International Airport, considered a Category X airport, a prime target for a terrorist attack.  With nearly 40 million passengers a year, it's an airport the size of a small city.  Whether it's intercepting drug smugglers, fighting terrorism, securing an Air Force One landing, handling medical emergencies or dealing with sting operations and aircraft malfunctions, "Airport 24/7: Miami" reveals what travelers typically don't see.
The show premieres Tuesday, April 30 at 9:00PM & 9:30PM with back to back episodes, starting with Fight or Flight in which the MIA team springs to action as two fully-loaded international flights collide on the jet way. As repercussions hit some passengers harder than others, the Beagle Brigade sniffs out a smuggler with unusual cargo and later with Signs of Disaster, when a tour bus of Jehovah's Witnesses crashes into an airport underpass and the MIA team faces one of the worst disasters in Miami Airport history. Customs and Border Protection uncovers a massive drug shipment, and opens the door to the undisclosed location where tons of confiscated narcotics end up.
Will you watch Airport 24/7: Miami on Travel Channel? Follow me on Twitter for more scoop.
Comments
comments